As most of the users who are using Smartphones of OnePlus 8 and 9 series are  Green and Pink Line issues in their Smartphones after updating their devices to OxygenOS 12 or OxygenOS 13. In OnePlus this issue occurred after the Integration of Oppo's ColorOS into OnePlus's  OxygenOS. In OnePlus smartphones, people have to replace their Displays to fix this issue. The Display is replaced for Free if your device doesn't have any physical damage or dent. If you have any physical damage or dent on your device then you will be charged for the Display Replacement. Most of the users are charged for Display Replacement.
Nowadays, the same issue also occurs with a Nothing Phone 1. A user on Twitter whose username is @JB_O07 has reported that their friend is having this issue. They have a green line on their Nothing Phone 1.
Green line Nothing Phone 1
If we talk about how the reasons for this issue. So, I have read the comments below this Tweet. The reason I think is, Probably this is due to the OLED Panel used in Nothing Phone 1 Display. But according to comments. Some users said that this is due to Nothing OS 1.5.3 which is based on Android 13. But the user who Tweet tells us that this isn't due to this update. Some say that this is due to Extreme Heating Issues. But I don't think that the line issue is due to Extreme Heating.
Note: These are just probably. We are not sure about the real reason.
The only way to fix this issue is to just change the Display as like OnePlus smartphones. You have to visit the service center.
Free Display Replacement?
There is not any official confirmation for this but OnePlus give free Display Replacement. If the device doesn't have any physical damage. Doesn't matter even if it's in warranty or out if warranty.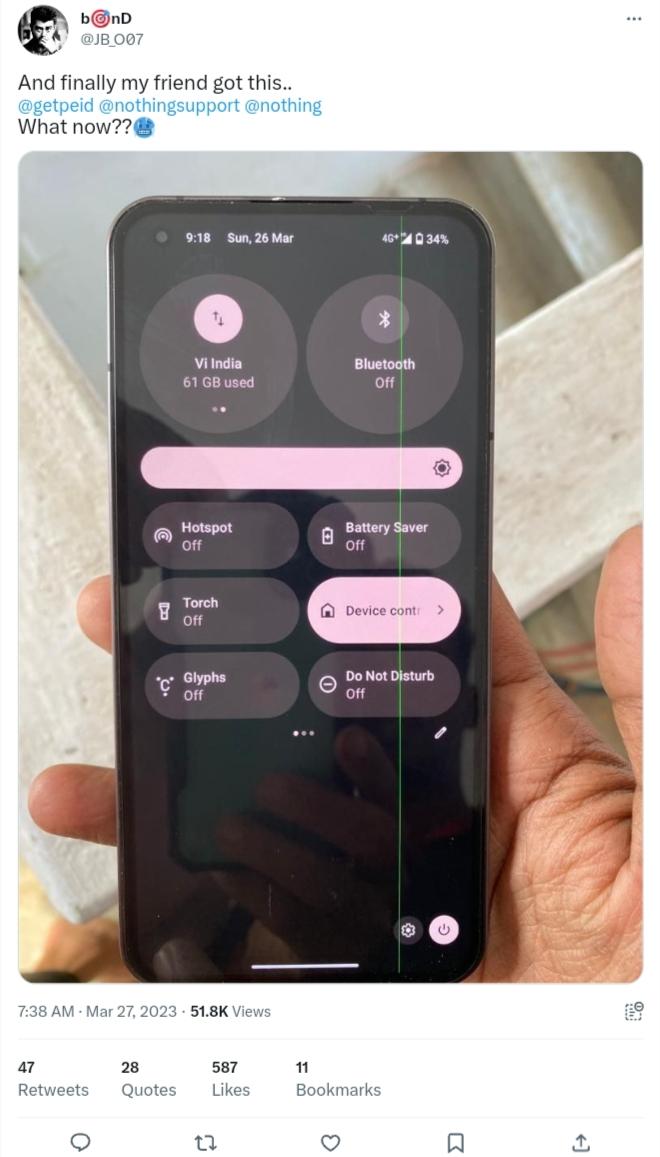 Also Read:OnePlus Nord Receives OxygenOS F.19 Update with March 2023 Android Security Patch
OnePlus 11R: First Device with Pink Line Issue
If you like our article, follow us on Google News and Instagram, or join our Telegram Group.