All the Key Features of Android 12.
Android 12 which is the new operating system brings significant visual upgrades and more security-focused features that keep you in charge of your privacy.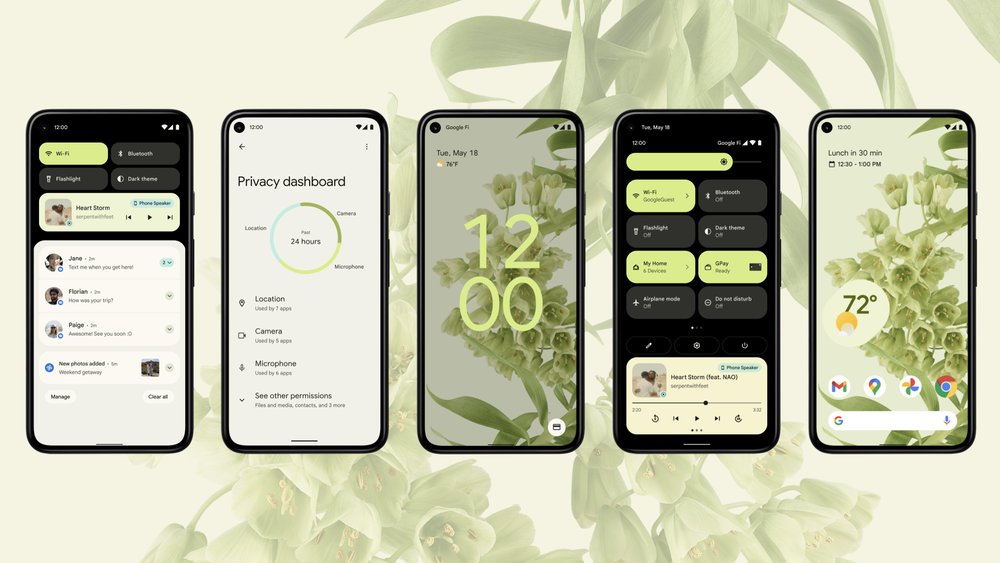 Visual Design Changes
The new OS brings in a new design concept called the Material You. This design is meant to be more expressive and humanistic.
Personalization is a significant aspect of Android 12, and the OS alters the UI colours, shapes, lighting, and motion in this regard. The most noticeable change is the UI's new adaptive colour palette.
The system will pick dominant and complementary colours based on your wallpaper and apply them across the entire OS, including the notifications shade, volume controls, lock screen, and more.
The Android 12 design is now more expressive. So shapes and colors will both play an important role in the UI.
Quick Settings
On Android 12, the Quick Settings panel aspires to be a true control panel. In this regard, the buttons have grown in size, and the panel has been expanded.
Android 12 introduces Google Pay and Home Control buttons, as well as two privacy-focused toggle buttons, Camera and Microphone Access. These two access buttons can be used to revoke system-wide rights for the two sensitive senso controllers.
Power Button
The power button now brings up Google assistant.
Faster & More Efficient
Android 12 has faster and smoother animations. Sameer Samat, VP of Product Management, Android & Google Play reveals, "This was achieved by some under-the-hood improvements including reducing the CPU time needed for core system services by up to 22% and reducing the use of big cores by the system server by up to 15%."
Security & Privacy Features
The new Privacy dashboard is the most significant addition. Over the course of 24 hours, Android 12 will provide a pie chart showing the quantity of data requests made by your installed apps. You can modify permission settings for any app from the same dashboard panel, giving you more control over your data.
The new camera and microphone indicator in the upper right corner is also a welcome improvement. The indicator will light up every time your camera or microphone is used, alerting you that the sensor is active.
You can also disable system-wide access to these sensors using the Camera and Microphone Access buttons in the Quick Settings window.
Android 12 has a new approximate location permission setting that only discloses your approximate location. This will be useful for apps that don't require you to communicate your exact position, such as the weather.
Key AI processes are also isolated in a separate, secure location within your system with the new OS. All audio and language will be handled by Android 12's Android Private Compute Core will handle all audio and language processing for Live Caption, Now Playing, and Smart Reply.
The Android 12 Beta is already live on Pixel and a number of other smartphones from brands like Xiaomi, Realme, OPPO, OnePlus, ASUS, and Samsung.
Also read: OxygenOS 11.0.1.1 for the OnePlus 7 and 7T series
If you have any issues follow me on Instagram or join our Telegram Group. For the latest TechNews and Reviews, follow Techibee on Twitter, Facebook, and subscribe to our Youtube channel