BGMI Rising Launch Party 2023 Day 2: Points Table and Short Overview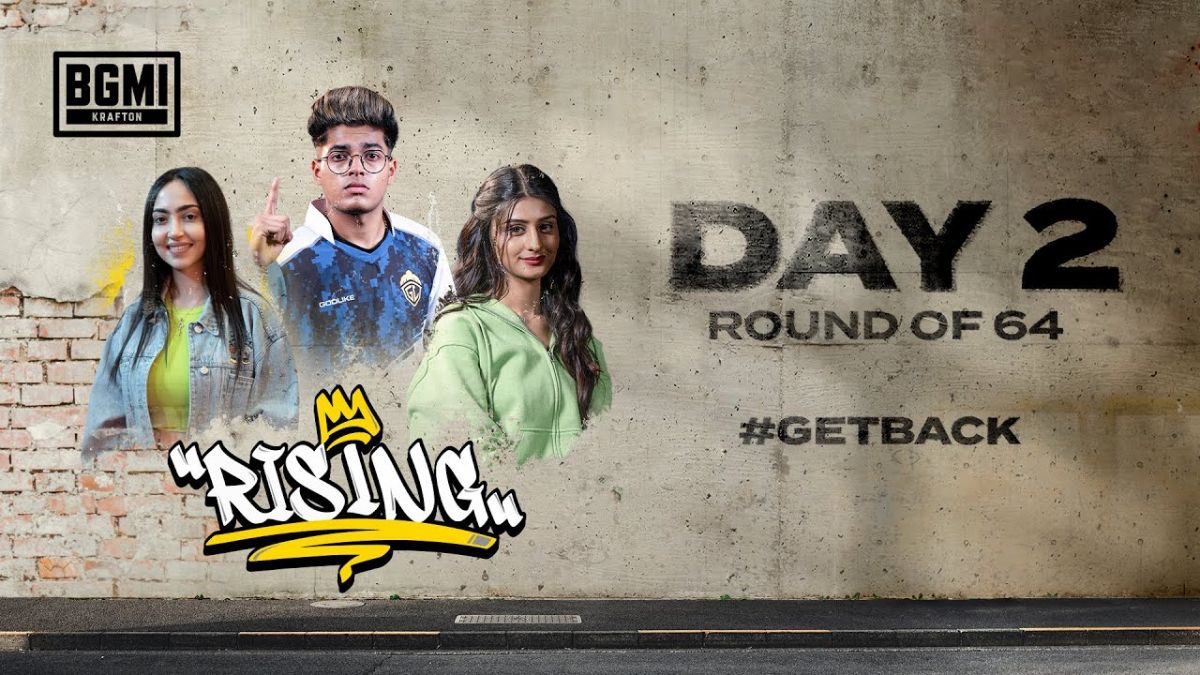 The BGMI Rising Launch Party 2023 continued its thrilling action on the second day as the Round of 64 phase concluded with the top 32 teams advancing to the Semifinals. The event featured four groups, each comprising 16 squads, competing in six matches over the first two days. The top eight performers from each group secured their spots in the second round, set to be played on June 3.
In the first stage, a total of 12 matches took place, including four intense pan-fight battles among the team captains. As the Round of 64 phase concluded, 32 qualified squads emerged and will face off in the Semifinals, vying for a place in the highly-anticipated Grand Finals.
BGMI Rising Day 2 Points Table
Here is a brief overview of the points table and highlights from Day 2 of the BGMI Rising Launch Party 2023:
Match 7 – Group B (Erangel):
Team Scout continued their impressive performance on Day 2, securing their second and final squad mode match of the Round of 64 phase with 36.5 points. Pukar and Scout from Team Scout contributed significantly with six and four kills, respectively. Team Iflicks secured the second spot in Match 7 with 22 points, following their fifth-place finish in the previous game.
The top three teams in Group B were Team Red Parasite, Team Scout, and Team Jokertop, securing the first, second, and third positions, respectively. Unfortunately, Team Ghatak failed to secure a spot among the top eight teams, resulting in their elimination from the Semifinals.
Match 8 – Group A (Sanhok):
Team Shadow made a strong comeback on Day 2, claiming their second victory with an impressive 39 points. Team Hydra Hrishav, winners of Group A's first match on the previous day, showcased their skills once again, earning 24 points. Team Sensei secured 12 points, while Team Mortal and Team Mortal faced disappointment, ultimately being eliminated from the BGMI Rising event.
In Group A, Team Ash emerged as the top scorer with 82 points, followed by Team Sensei in the second position and Team Payal in seventh. Team Mortal, however, experienced a challenging Day 2, failing to perform as expected.
Match 9 and 11 – Pan Fight (Both Sanhok):
Day 2 witnessed two exhilarating pan-fight matches, with Red Parasite emerging victorious in the first battle and Alpha claiming victory in the subsequent game.
Match 10 – Group D (Sanhok):
Team Mayur Gaming secured a convincing win in the second match featuring Group D, amassing 40 points. Team Kanary and Team Spartan Shubh secured the second and third positions with 24 and 23 points, respectively.
Team Manty, winners of the first game in Group D, demonstrated consistency and earned 20 points. Team Snax and Team MAVI managed to secure 16 and 6.5 points, respectively, in their second Squad Mode match of the BGMI Rising event.
Match 12 – Group C (Erangel):
Team Jonathan showcased their prowess, clinching a decisive Chicken Dinner in their second Squad Mode game. Justin from Team Pahadi delivered an exceptional performance, recording an impressive 12 individual eliminations.
Team Krutika secured the leading position in Group C standings with an impressive total of 89 points, closely trailed by Team Owais and Team Jonathan with 67.5 and 67 points, respectively.
The BGMI Rising Launch Party 2023's Semifinals promise to be a riveting showdown as the top 32 teams battle it out for a place in the Grand Finals. With intense competition and exceptional gameplay, the stage is set for an enthralling conclusion to this highly-anticipated esports event.
For More Such Updates Follow Us On – Telegram, Twitter, Google News, and Facebook