Nothing has to prevent these mistakes that were done by OnePlus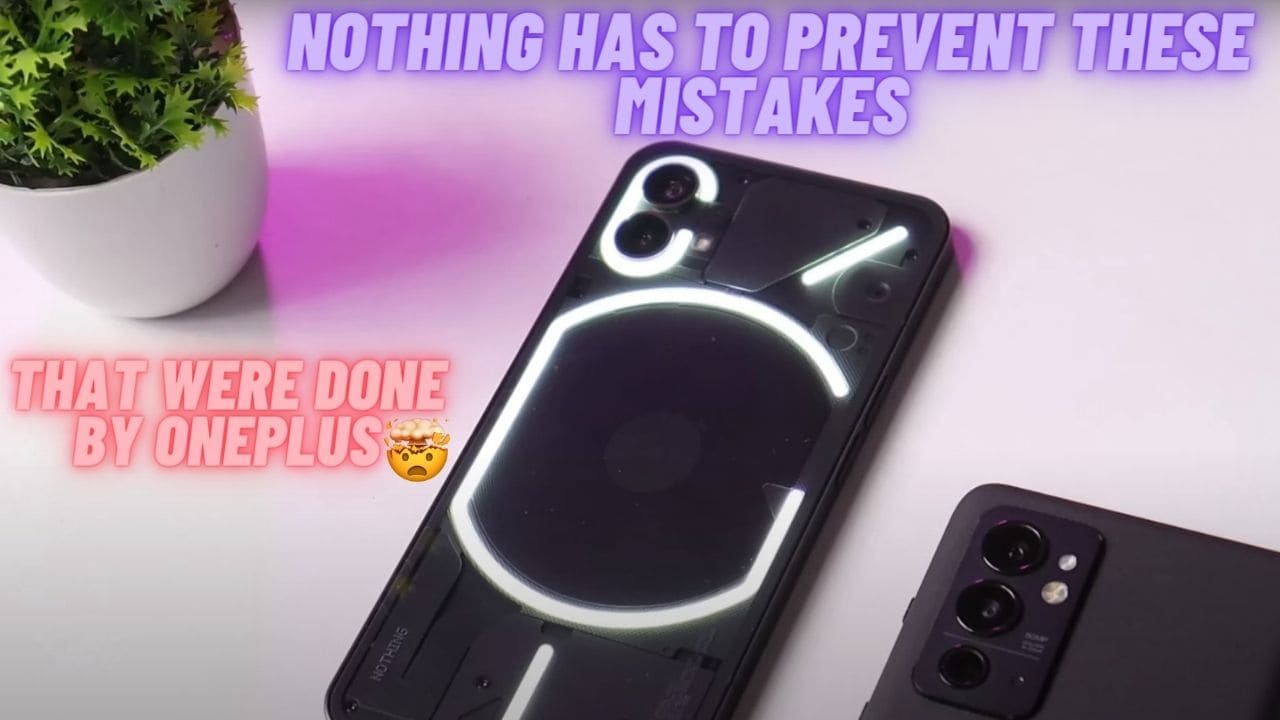 Nothing was founded by Carl Pei in 2020. Carl Pei was also Co-Founder of OnePlus which is now a subsidiary of OPPO which is a Chinese company. But Pei left OnePlus in 2020 and start his new brand called Nothing. Nothing is a UK Based smartphone manufacturing company. The company launched its first smartphone in July 2022 as Nothing Phone (1). Phone (1) won different awards for its unique transparent glyph interface design. Now, the company is working on its upcoming smartphone which is going to be launched in July 2023 globally as said by Carl Pei. But, Nothing has to avoid these mistakes that are done by OnePlus.
Implementation of ColorOS into OxygenOS
When we talk about OnePlus, OxygenOS is coming to our mind. OxygenOS which was the most popular Android OS skin close to stock Android, with no bloatware. But In 2021, OnePlus's OxygenOS merged with OPPO's ColorOS to provide a better user experience and fast updates. Old users of OnePlus won't like it as the OxygenOS 13 is much close to ColorOS 13. There was only a thin layer of old OxygenOS. Users want a unique OS. As both the OS looks like same. Also, the updates are also too late and it also introduces new bugs. OnePlus Nord 2 5G was the first device that comes with this merger. So, the first lesson Nothing has to learn from OnePlus is to stay on Stock Android. Better Software Experience with some additional features and faster updates.
Avoid the Campaigns that won't make any sense in marketing
Do you remember the OnePlus campaign during OnePlus One? OnePlus has launched a Smash the Past campaign. In this users have to break their old phone to become the World's First owner of Oneplus One among 100. These winners have a chance to win OnePlus One for 1$ only. There was one more campaign in which users can only buy the OnePlus One if someone refer them. These are the stupid's marketing strategies that don't make any sense. So, Nothing has to also avoid this mistake also.
What Carl Pei about the marketing of Nothing Phone (2)
Carl Pei, The CEO and Co-Founder of Nothing said that he has better ideas for the marketing of their Nothing Phone (2) instead of these stupid campaigns. As we know, Carl was the face of the OnePlus Nord that was launched in 2020. OnePlus Nord was one of the most overhyped smartphone launches.
Nothing has to take a carrier in their Nothing Phone (2)
As we know, there is a version of the OnePlus 6T that comes with T-Mobile. T-Mobile is a mobile TeleCommunication Company that provides carrier for mobile communication. These companies provide smartphones at a contract. Smartphones with a custom carrier are locked. You won't use another carrier on these smartphones. Nothing has to take a carrier for their upcoming smartphone Nothing Phone (2) for a good improvement in the US market to compete with Apple's iPhones.
There was a Vodacom-based Nothing Phone (1) for South Africa which is available on the official site of Vodacom.
Failure of Oneplus 2
After the success of the OnePlus 1. The company has launched its upcoming smartphone which was OnePlus 2. But as there were issues with Qualcomm Snapdragon 810 Processor but the company thought they will fix the issues with their software optimization. After the launch users of the OnePlus 2 faced different issues like an unresponsive fingerprint issue, heating issues, Sim selection issues, etc. If we compare OnePlus One with Nothing Phone (1). The company brings a unique design to prove that there was an audience for a different type of smartphone. As OnePlus launched OnePlus 2 very quickly it create issues for the phone and make a question on the reputation of the company. So, to avoid this, Nothing has to take a more delight way to make succeed of Phone (2).
Connecting with the Users
Last but not least. As we know old OnePlus connect with users in the community. Take feedback from the users and then implement it in smartphones. But now the company won't ask users what they want. But on the other hand, as Nothing is also connecting with the users. There is also a Discord server of Nothing to connect with the community. Nothing must have to interact with the users.
For More Such Updates Follow Us On – Telegram, Twitter, Google News, and Facebook