Nothing Phone 1 finally gets stable Android 13 NothingOS 1.5.2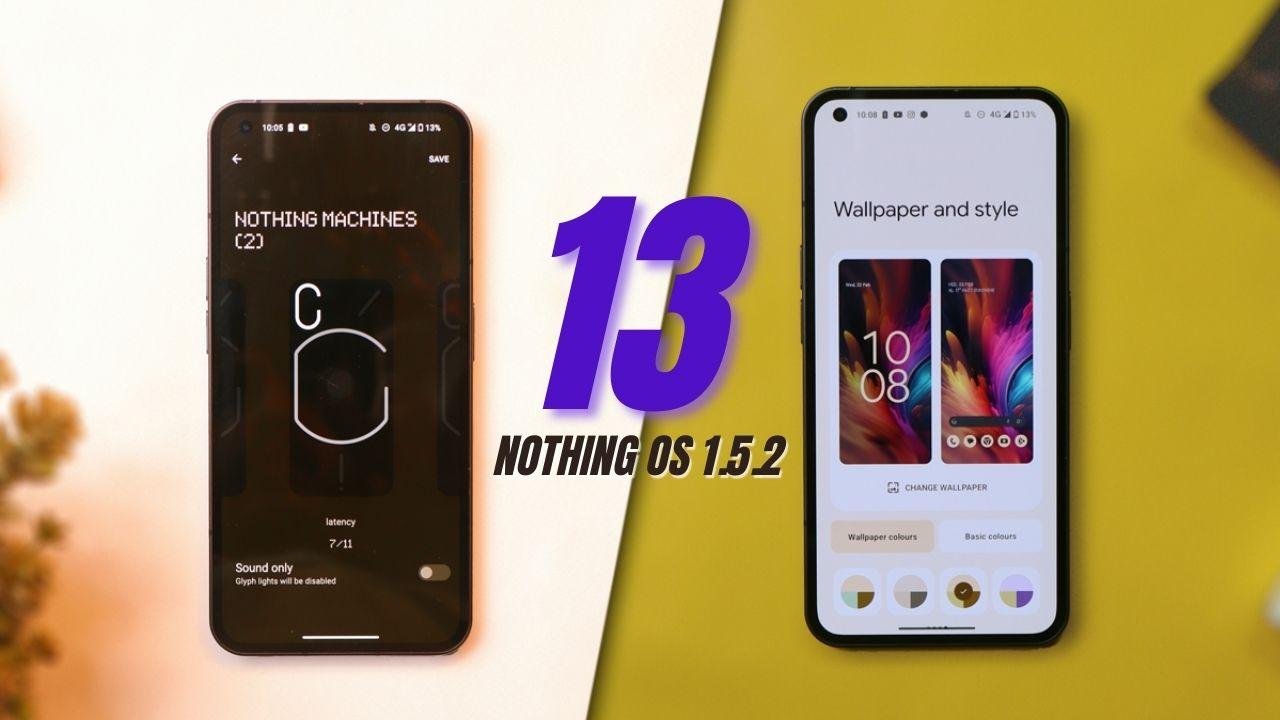 In December, Nothing released the first Nothing OS 1.5 Open Beta build for the Nothing Phone 1, allowing customers to test out Android 13 before the stable launch. The business has begun distributing the first stable build of the Nothing OS 1.5 branch for the smartphone after a brief testing phase. Nothing Phone 1 finally gets stable Android 13 NothingOS 1.5.2.
According to numerous user reports on Nothing's official Discord channel and Reddit, Nothing OS 1.5.2—the stable Android 13 update—is now available for the Nothing Phone 1. This is a comparatively small update, only 157MB in size when upgrading from the most recent public beta. Moreover, the release includes the January 2023 Android security updates.
The following list summarises each significant adjustment made in the stable Nothing OS 1.5.2 release for the Nothing Phone 1:
Weather app

New Nothing weather app
Tapping a weather widget on the homescreen now directly opens the corresponding city in the app instead of opening a link.

Customisation

All new Glyph soundpack for more ringtone and notification sounds.
More color schemes available from the wallpaper selector.
New collection of minimalist wallpapers.
Icons can match your background color to make your home screen look more consistent.
Lockscreen shortcut customisations. Create shortcuts for camera, torch, device controls, and wallet.

Improved experience

Easily switch data usage when using dual SIM with the improved network Quick Settings panel.
Automatically show the current network and display how much mobile data you have used in Quick Settings.
Directly scan a QR code in the Camera app. Scanner also appears as a shortcut in Quick Settings.
Select language preferences for different apps.

Visual improvement

A New look for Media Control. Puts album artwork on full display with a wider set of music controls.
Improved volume settings panel. Allows granular volume control without unlocking the device.
Improved Game Mode light notifications. So there is less distraction when you are playing.
Smoother animations when transitioning the display between on and off.
More refined Camera app interface.

Privacy and safety

Get an alert when an app accesses your clipboard. Cleared history after a period of time to prevent unwanted access.
Added Personal Safety app.
Better privacy protection including Photo Picker, nearby Wi-Fi devices permission, and select media permission.

System performance

Fingerprint unlock accuracy has improved by up to 12%.
App startup speed has increased by up to 71%.
Standby power consumption has improved by up to 50%.
Implemented a new self-repair feature to periodically delete unused system dumps and cache.
Increased system stability.
General bug fixes.
Even though this is Nothing OS 1.5's first stable build, the current wave may only be available to those who have already participated in the Open Beta. If no catastrophic problems are found, we anticipate the stable Android 13 OTA to go out to all customers during the next week.
How to Install Stable NothingOS 1.5.2 based on Android 13 on Nothing Phone (1)
Download the files (NothingOS 1.5.2 full Zip) from the below links. (Note: Right now full zip is not available.
If you are on NothingOS 1.1.8 (You need to use full Zip) or if your device is already running on NothingOS 1.5.1 then download Incremental Zip from the below links
Create a folder in the root of storage named 'OTA' & Copy the correct version of the update file into the folder you created
Go into your dial pad and type *#*#682#*#*
You will see the manual update utility launch
It should scan and find your previously downloaded update file
Tap it to begin the update
The update should take 5-10 mins once done Reboot & Enjoy Android 13 on Nothing Phone (1)
Download NothingOS 1.5.2 Android 13
Global / EEA – ▪️ Full Zip: NA – Incremental over NothingOS 1.5.2 (Note: Files are still not released)
If you like our article then follow us on Google News, and Instagram, or join our Telegram Group. 
For More Such Updates Follow Us On – Telegram, Twitter, Google News, and Facebook