Oneplus 8 Series Received OxygenOS 10.5.10 & 10.5.11 w/ July Security Patch.
Last month,Oneplus 8 series received OxygenOS 10.5.8 update with May 2020 Android security patch and lots of system,camera and network optimizations.
The changelog of OxygenOS 10.5.8 update included a new auto ultra-wide-angle lens feature for shooting at close range to improve the picture quality of edges in Oneplus 8 Pro only.The update also added support for encoding videos in the H.265 (HEVC) video codec to reduce video storage size.
Recently,Oneplus 8 Series Received OxygenOS 10.5.9 & 10.5.10 w/ June Security Patch.The update size is 155MB.The update fixed known issues and improved system stability. It also Optimized the touch and interaction experience.
Today,Oneplus 8 Series Received OxygenOS 10.5.10 & 10.5.11 w/ July Security Patch.The update was confirmed in a post over on the official OnePlus Forums today. The update size is 244MB.
The update will arrive as a different version within specific regions.North America region will get OxygenOS 10.5.11 update, Indian region will see the OTA files as OxygenOS 10.5.10 and Europe will get OxygenOS version 10.5.9.
In Indian update version,a new Red Cable Club membership card will be included in the shelf.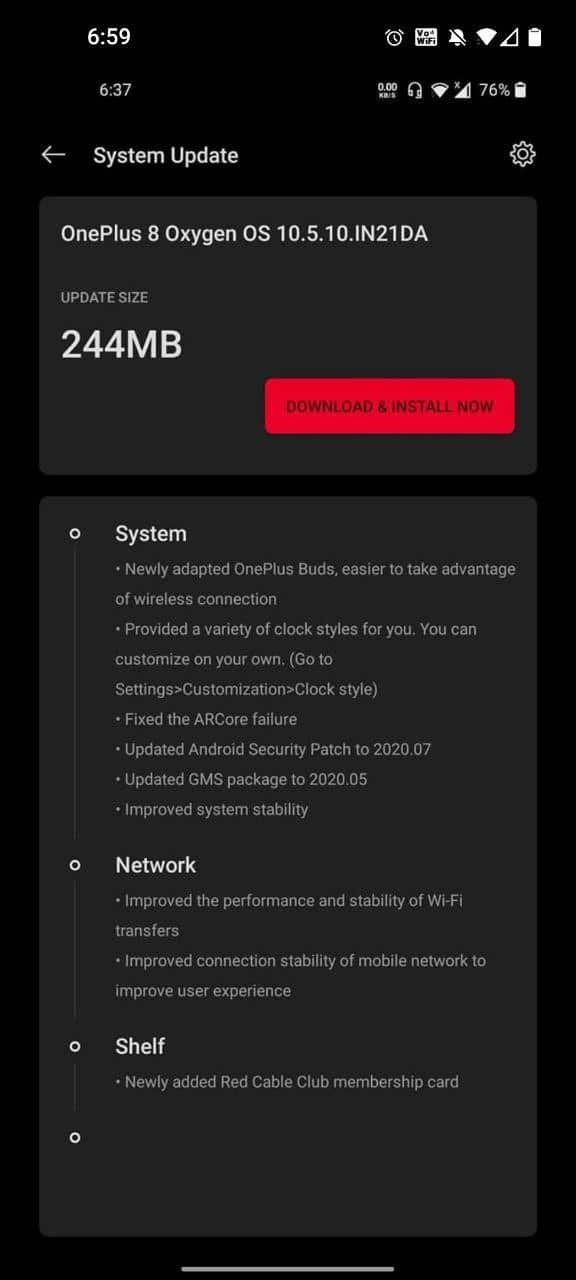 Changelog:
System

Newly adapted OnePlus Buds, easier to take advantage of wireless connection
Provided a variety of clock styles for you. You can customize on your own. (Go to Settings>Customization>Clock style)
Optimize the touch experience in game mode to enhance the user experience
Fixed the issue that the wireless charger base re-started automatically
Fixed the ARCore failure
Updated Android Security Patch to 2020.07
Updated GMS package to 2020.05
Improved system stability

Network

Improved the performance and stability of Wi-Fi transfers
Improved connection stability of mobile network to improve user experience

Shelf

Newly added Red Cable Club membership card (IN only)
Downloads
For the latest TechNews and Reviews, follow Techibee on Twitter, Facebook, and subscribe to our Youtube channel.