OnePlus explains how they optimized OxygenOS 11 for better One-Handed use
Oneplus announced Android 11 Developer Preview 4 based on OxygenOS 11 For Oneplus 8 and 8 Pro. Oxygen OS 11 Developer Preview 4 brings Gaming tool box & tons of bug fixes.
The developer Preview build is designed for our most technically-inclined community members to test out the new features and share feedback directly with us. As this is still in an early stage of development and flashed it at your own risk.
OxygenOS One handed Use
OxygenOS Product Lead Gary C. explained how OnePlus analyzed data to design a system that's more comfortable for one-handed use. The company says they conducted A/B testing and found that 65% of users prefer slightly smaller headlines while 80% of users prefer titles with subtitles rather than without. In accordance with these metrics, OnePlus designed a new "headline-body hierarchy that streamlines information delivery in OxygenOS 11." Furthermore, the company looked at anthropometric data to determine the general regions of the screen where people can easily reach or struggle to reach, as shown below. 
As a result, OxygenOS 11 moves touch controls closer to your thumbs for easier access. When you open a menu, settings will now be pushed to the lower half of the display. "We also wanted to add even more features to make one-handed use quicker and easier," OnePlus said in a forum post. "So, for example, we added a new Quick Share button in the Camera app. Now you can long press the thumbnail of the last photo you took to quickly share the photo with just one motion." The company also redesigned its Weather app based on these principles, with the new UI currently rolling out in beta.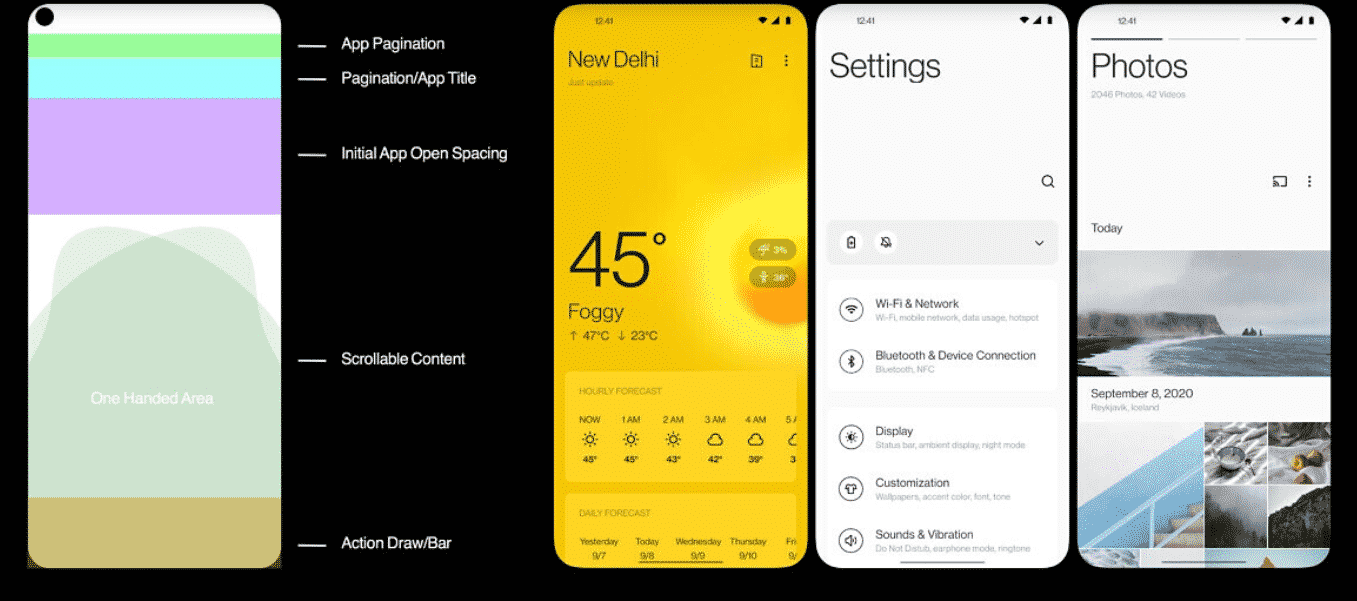 The changes to OxygenOS 11 come in response to the current mobile landscape, which is flooded with devices that feature tall screens. While big displays are great for content consumption, they do present usability issues with people who have smaller hands.
Also read: New Google Camera mod enables auxiliary camera support without root on many devices
For the latest TechNews and Reviews, follow Techibee on Twitter, Facebook, and subscribe to our Youtube channel.
SOURCE: Xda