OnePlus Merges with Oppo in '2.0' Transition.
OnePlus and OPPO officially combined their product and R&D teams in June. OnePlus announced the unification of the OxygenOS and ColorOS codebases a month later. Now, OnePlus has provided further details on how this partnership with OPPO will affect the company's hardware and software strategy, as well as what it means for OnePlus fans and existing users. The new unified OS for OnePlus and OPPO devices is undoubtedly the highlight of this presentation.
OnePlus 2.0
The combination with OPPO, according to Pete Lau, Chief Product Officer of both OnePlus and OPPO, is the "beginning point of OnePlus 2.0," implying that it is a huge milestone for the firm. Pete claims that OnePlus will keep to its "Never Settle" strategy and burdenless design philosophy when it comes to products and services. He also claims that OnePlus will continue to offer high-quality devices at a variety of price points, including "even more competitive pricing." OnePlus will, despite these modifications, continue to allow consumers to unlock their bootloaders.
Pete reassured OnePlus fans that the new unified operating system "will keep the DNA of OxygenOS that many of you love so much."
We will customize the unified OS specifically for OnePlus devices to make sure it meets your expectations, for example by keeping it as clean and lightweight as before, and continuing to support unlock bootloaders.
As previously stated, one of the major announcements made today is the combination of OnePlus' OxygenOS with OPPO's ColorOS, which goes beyond the previously reported codebase convergence.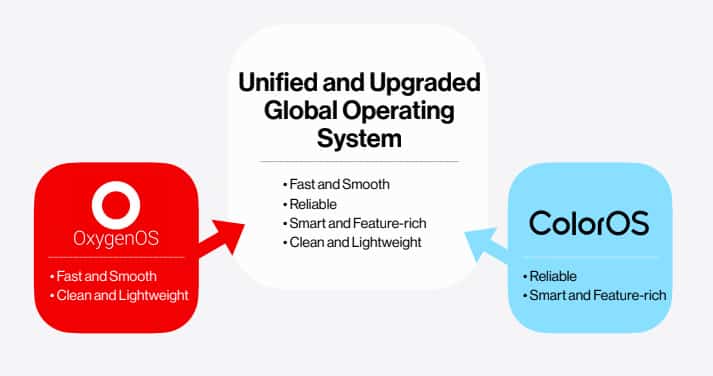 According to OnePlus, the new unified OS will blend the best of both worlds: OxygenOS' fast and burden-free experience with ColorOS' stability and extensive functionality. The new operating system's name, however, has yet to be revealed by the corporation.
OnePlus also stated that it will work to improve the user experience of its camera app. Additionally, the business intends to invest in greater zoom capabilities, a new colour filter array, improved picture stabilisation, and next-generation camera modules.