PUBG New state Server Down in India Unable to Connect Server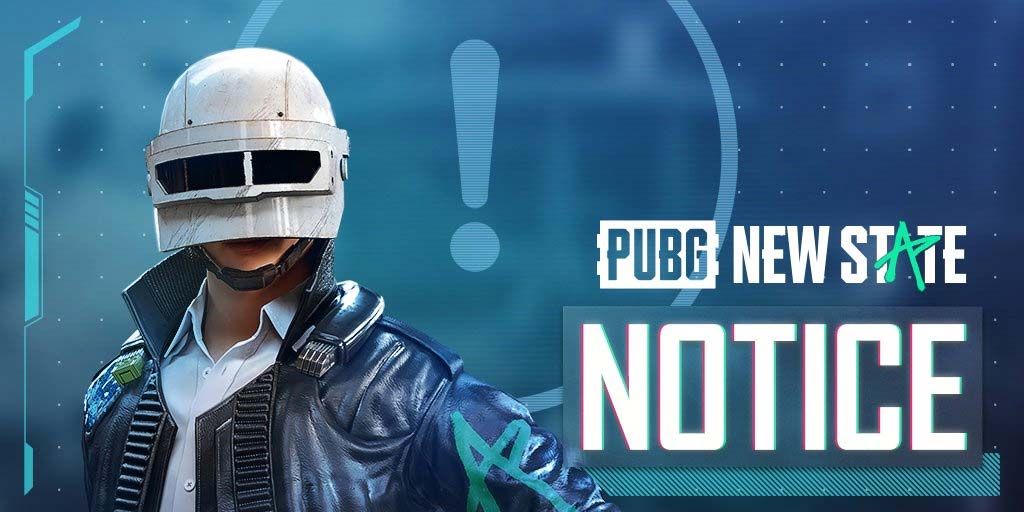 PUBG New state Server Down in India Unable to Connect Server.
PUBG new state was just made on the play store for the Indian region soon after an hour people started reporting issues about the game being unable to Connect to Server.
Soon after that a statement was released about the same :
https://twitter.com/PUBG_NEWSTATE/status/1458653234801745922?s=20
We have to wait for a few more hours to get PUBG new state fully functional here in India, In the above tweet it's being informed Due to current server issues we've decided to postpone the official launch of the game TWO hours to 06:00 (UTC) India time: 11:30 hrs.
About PUBG NEW STATE : 
PUBG: New State is set in 2051 and depicts the future of the PUBG universe. It boasts superior visuals and more dynamic gunplay, but the guns and other stuff in the game set it apart from the competition. In the game, you may employ drones, keep your loot and weapons in a vehicle's trunk, and customise your firearms with additional possibilities. At the moment, the game only has one map, which is called Troi. At the start of the contest, this 8×8 open world map will include 100 participants, but only one team will make it to the conclusion.
PUBG: System Requirements for the New State
If your phone runs Android 6.0 Marshmallow or later and has at least 2GB of RAM, you may download PUBG: New State. A 64-bit CPU is also required, but as the latest generation of processors is mostly based on that architecture, this should not be an issue for you.
How to manually Install Pubg New State :
Download Pubg New State APK: Coming Soon
Download Pubg New State OBB File: Coming Soon
Install Pubg New State APK
After installation, a folder will be Created storage\Android\obb\com.pubg.newstate.beta
Place OBB file inside this folder ( com.pubg.newstate.beta )
Note: If Unable to Access OBB files/ folder, use ZArchiver app from here: ZArchiver apk
Run the Game and Login, Enjoy.
NOTE : Game will not run on rooted phones & even if Bootloader is unlocked
Also read: OnePlus 10 Pro leaks reveal huge rear-camera – Trippel Camera
If you like our article then follow us on Google news, Instagram or join our Telegram Group. For the latest TechNews and Reviews, follow Techibee on Twitter, Facebook, and subscribe to our Youtube channel.
For More Such Updates Follow Us On – Telegram, Twitter, Google News, WhatsApp and Facebook
Battlegrounds Mobile India Pro Series (BMPS) 2023: Event Details, Team Lineup, Prize Pool, and More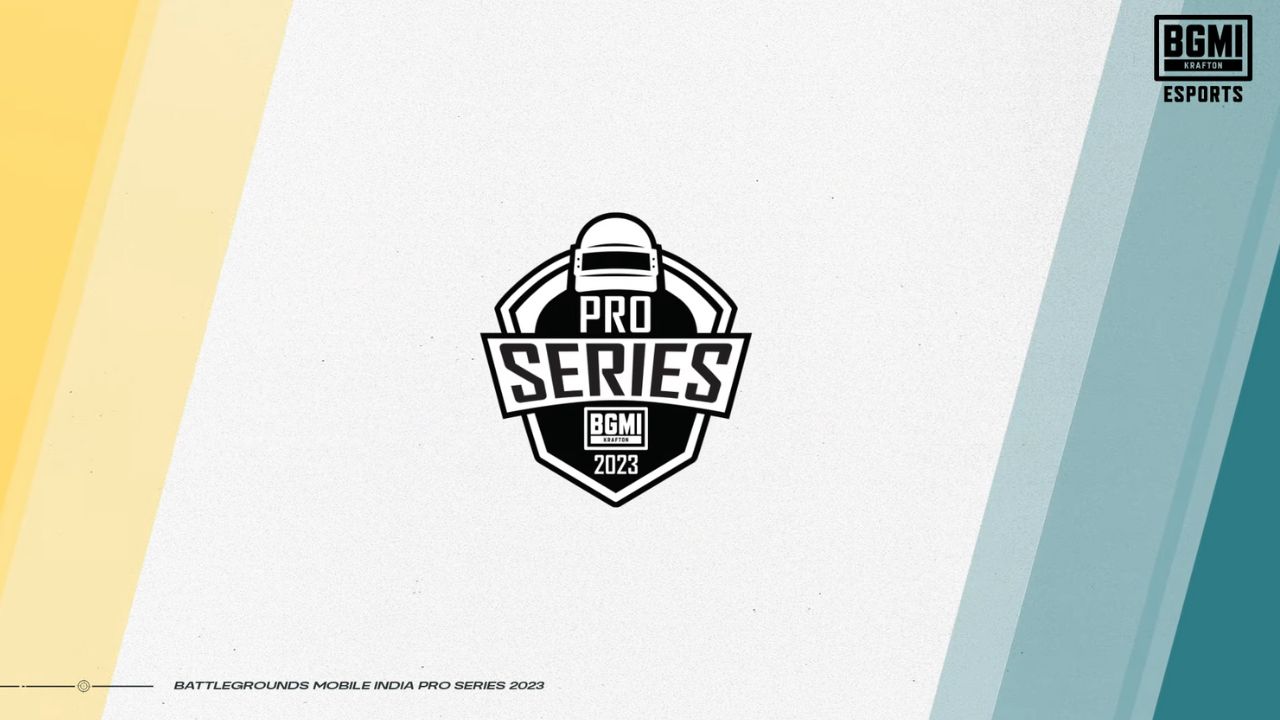 The Battlegrounds Mobile India Pro Series (BMPS) 2023 begins on November 22. Krafton, the event organizer, says 96 BGMI teams will compete for Rs 1 crore. The list of teams and more details are still to come.
Krafton India Esports released the BMPS 2023 trailer on November 20. It shows the prize, team count, and start date. The company's statement highlights an exciting series with top teams and big prizes.
"Gear up for an electrifying experience. BATTLEGROUNDS MOBILE INDIA PRO SERIES 2023 is back with 96 Top Teams and a massive 1 Crore Prize Pool.The Battle of the Pros is set to unfold, promising intense clashes and thrilling victories. Dive into the action – it's not just a competition; it's a game for glory that'll keep you on the edge of your seat."

KRAFTON India Esports
BMPS 2023 Invited Teams and Previous BGMI Events
This second BMPS edition will have 96 teams from India. These teams did well in the Battlegrounds Mobile India Series (BGIS) 2023. Many teams have new players for this last official BGMI tournament of 2023. Fans can watch it live on Krafton India Esports' YouTube channel.
The prize pool is smaller than last time as BMPS 2023 is an invited tournament. In 2022, Team Soul won BMPS 2022 and got Rs 75 lakh. Their player, Goblin (Harsh Paudwal) got the MVP title for his amazing gameplay in the finals.
Before BMPS 2023, GodLike Esports added Jelly (Gunjan Thakur) as their new leader. They came seventh in the Red Bull M.E.O. Teams like Hyderabad Hydras, Autobotz, and Team XSpark changed their lineups too.
Teams such as Soul, GodLike Esports, and Orangutan didn't do well in BGIS 2023. They hope to win their first trophy of the year in this tournament. But there are some teams such Gladiators Esports, and Blind Esports which are dominating in the BGMI Esports scenarios since the game is back. So it's going to be tough for the popular fan team to win this tournament. This event is going to be packed the amazing actions so keep visiting for the latest updates.
For More Such Updates Follow Us On – Telegram, Twitter, Google News, WhatsApp and Facebook
Krafton Reveals BMPS 2023, India's Next Big Esports Tournament
Krafton has just announced the Battlegrounds Mobile India Pro Series 2023, also known as BMPS 2023. This big news was shared on Krafton's official Instagram. The company is telling gamers to get ready for some top-level gaming action.
BMPS is a major league in the world of Battlegrounds Mobile India (BGMI). Here, pro teams from across India compete for big prizes. Teams that have shown skill in past tournaments and those loved by fans might get the chance to play in BMPS's second season.
This announcement follows the Battlegrounds Mobile India Series (BGIS) 2023. That event wrapped up on October 15 with a big prize pool. Now, Krafton is gearing up for BMPS 2023. This tournament is going to be big in India, especially since the ban on such events was lifted.
We don't have the exact dates and format for the event yet. According to some sources, the tournament will be invitational where popular teams in India will be invited. In the last season of BMPS, the open qualifier happened first in the name of the tournament which was Battlegrounds Mobile India Open Challenge 2022. After several rounds, the best 32 teams from these qualifiers got to play against 32 teams that were invited directly. From these, 24 teams made it to the first season of BMPS. Team Soul came out on top, and their player Goblin was named the most valuable player (MVP).
Now let's wait for the official announcement by Krafton about dates, format, and how the tournament is going to happen.
For More Such Updates Follow Us On – Telegram, Twitter, Google News, WhatsApp and Facebook
OxygenOS 14 Now lets you record BGMI Gameplay in 90FPS with Android 14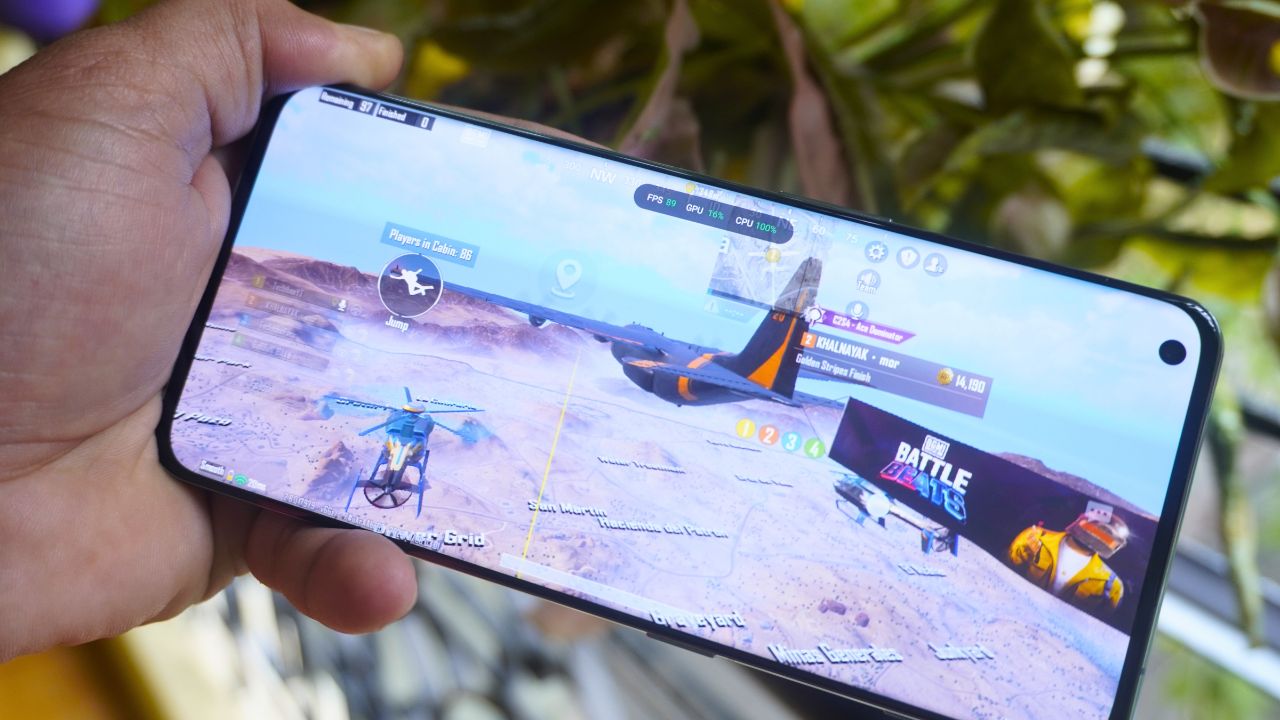 OnePlus is rolling out OxygenOS 14 for many OnePlus smartphones and the OnePlus 11 has already received four beta builds of OxygenOS 14 followed by the Oneplus 10 series and Oneplus Nord 3 both of which received two Oen beta builds. Other devices starting including the OnePlus 8T start getting the OxygenOS 14 open beta build in November.
In the past, the company had restricted screen recording to only up to 60 FPS while recording BGMI gameplay. But now, after the OxygenOS 14 beta update OnePlus 11 and OnePlus 10 Pro both can record 90 FPS gameplay. The below screenshot was taken while recording BGMI gameplay.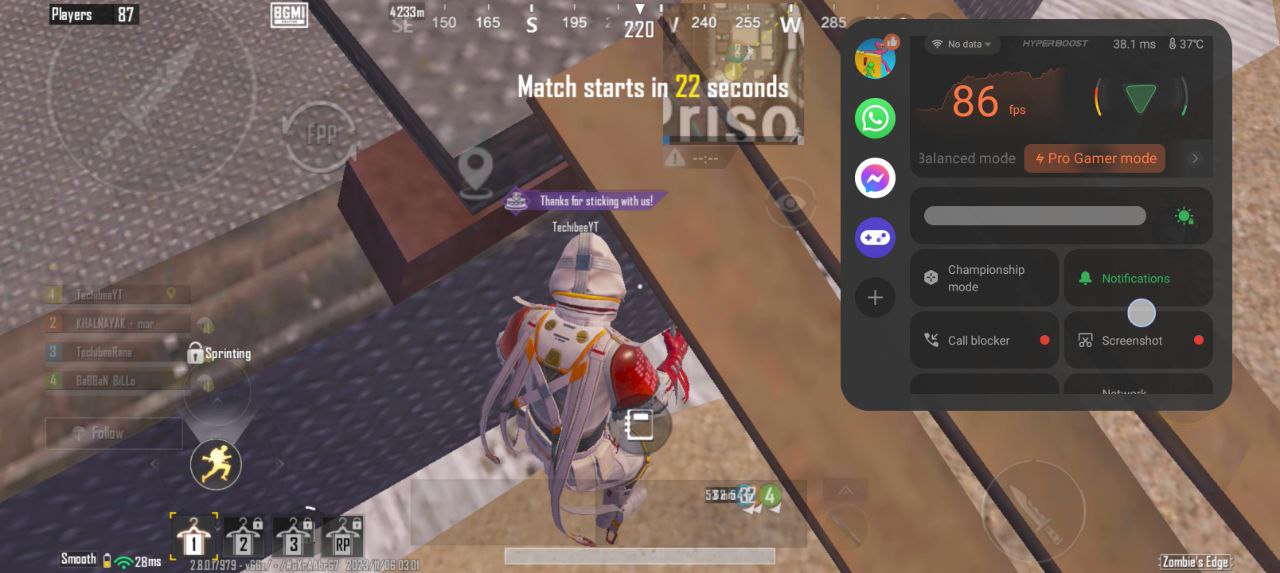 Remember Recording gameplay on a 90 FPS device heats up a lot and once your device heats up, the FPS drops from 90 FPS to 60 FPS while gaming. We can still record with 90 FPS if we manage to keep the device cool. We always use OnePlus 18W Phone Cooler to maintain Constant 90 FPS on the OnePlus 11, while using the cooler we can easily record 90 FPS without affecting the gameplay performance.
How to Record BGMI 90 FPS Gameplay in OnePlus Smartphones
Use the below setting to record your gameplay in 90 FPS and ensure you have the latest version of the screen recorder app. Before starting screen recording, make these changes under picture quality. The definition is to be set to high 2K 32 Mbps and also set the frame rate to Dynamic.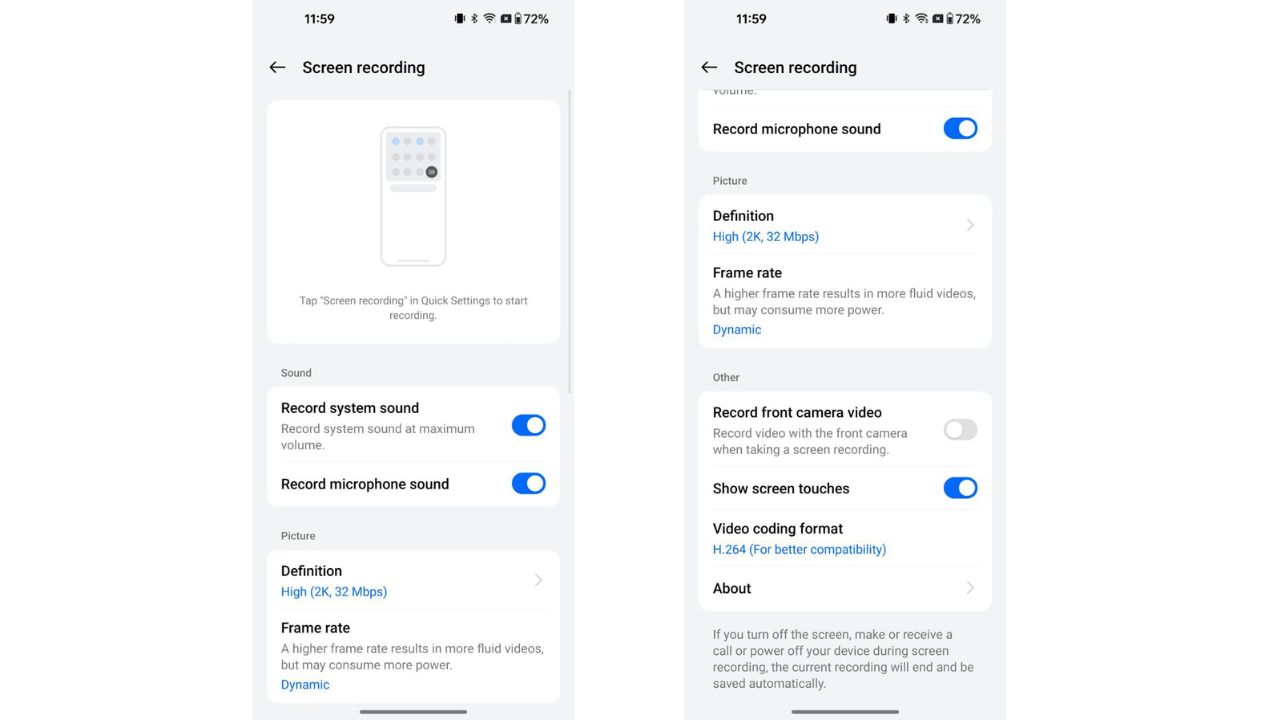 How many of you guys still play BGMI? Do you guys prefer gaming with 90 FPS or 60 FPS? Also, let us know below in the comment if you guys are able to record gameplay in 90FPS after OxygenOS 14.
For More Such Updates Follow Us On – Telegram, Twitter, Google News, WhatsApp and Facebook