S8UL Creators Unite for Charity Stream in Aid of Odisha Relief Fund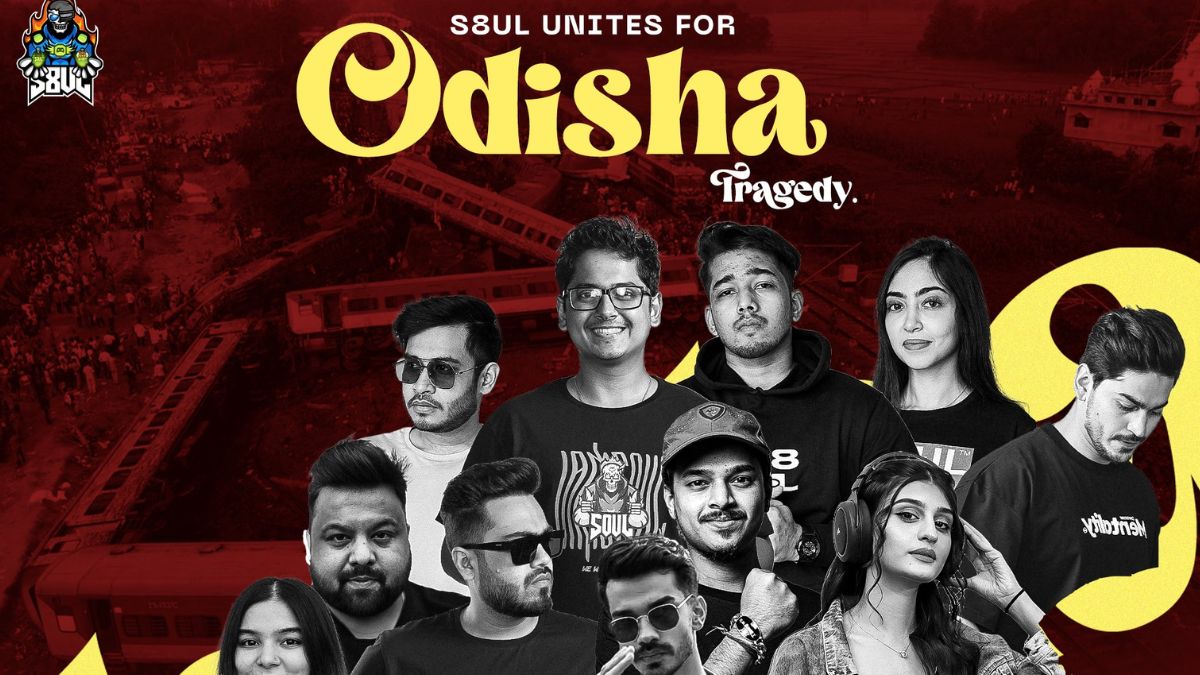 In a heartwarming gesture of solidarity, S8UL Creators, a renowned group of content creators, have come together to organize a charity stream aimed at supporting the victims of the recent train accident in Odisha. Led by popular streamers Scout and CarryMinati, the event aims to raise funds for the Odisha Relief Fund and provide much-needed assistance to the affected families. The announcement was made by S8UL on their official Twitter handle, generating significant anticipation among their followers.
Scout Charity Steam for Odisha Relief Fund
Scheduled for June 5, the charity stream will be hosted on Scout's YouTube channel, starting at 4 PM. The event promises an exciting lineup of gaming content, with four games planned throughout the stream. The gaming sequence includes BGMI TDM (4v4), Valorant (10 man), BGMI TDM (Old Soul vs. New Soul Team), and BGMI Customs featuring various creators. Each donation made during the stream will contribute to a brighter future for those affected by the tragedy.
The motivation behind this charitable initiative stems from the tragic train accident that occurred recently in Odisha, involving the Bengaluru-Howrah Superfast Express, the Shalimar-Chennai Central Coromandel Express, and a goods train. The collision resulted in a catastrophic impact, causing carriages to be flung into the air, twisted, and ultimately derailing several compartments. The accident has left numerous families devastated and in dire need of support.
CarryMinati Raises Over Rs. 12 Lakh in Charity Stream for Odisha Tragedy
In a similar vein, popular Indian YouTuber CarryMinati held a separate charity stream to raise funds for the same cause. His efforts resulted in a significant contribution of Rs. 12,76,450 towards aiding the victims of the Odisha tragedy. The collective response from the online community has been overwhelming, highlighting the power of unity and compassion during times of crisis.
The upcoming charity stream organized by S8UL Creators presents an opportunity for individuals to stand in solidarity with the affected families and make a positive impact. By participating in the event and making donations, viewers can play an active role in assisting those who have suffered from this tragic incident.
As the day approaches, excitement builds among the gaming community and beyond, with many eagerly anticipating the event. The S8UL Creators and their respective fan bases are united in their determination to make a difference and contribute to the Odisha Relief Fund.
As the world witnesses the unifying power of online communities, events like these showcase how gamers and content creators can come together for a noble cause, transcending boundaries and spreading kindness. The charity stream on June 5 will not only provide an entertaining gaming experience but also demonstrate the immense generosity and compassion of the online community.
Together, let's join Scout, CarryMinati, and the S8UL Creators in this noble endeavor, as we create a wave of support that knows no bounds. By lending our support and making contributions, we can help paint a brighter future for the affected families and offer them the hope and assistance they desperately need.
For More Such Updates Follow Us On – Telegram, Twitter, Google News, WhatsApp and Facebook
Battlegrounds Mobile India Pro Series (BMPS) 2023: Event Details, Team Lineup, Prize Pool, and More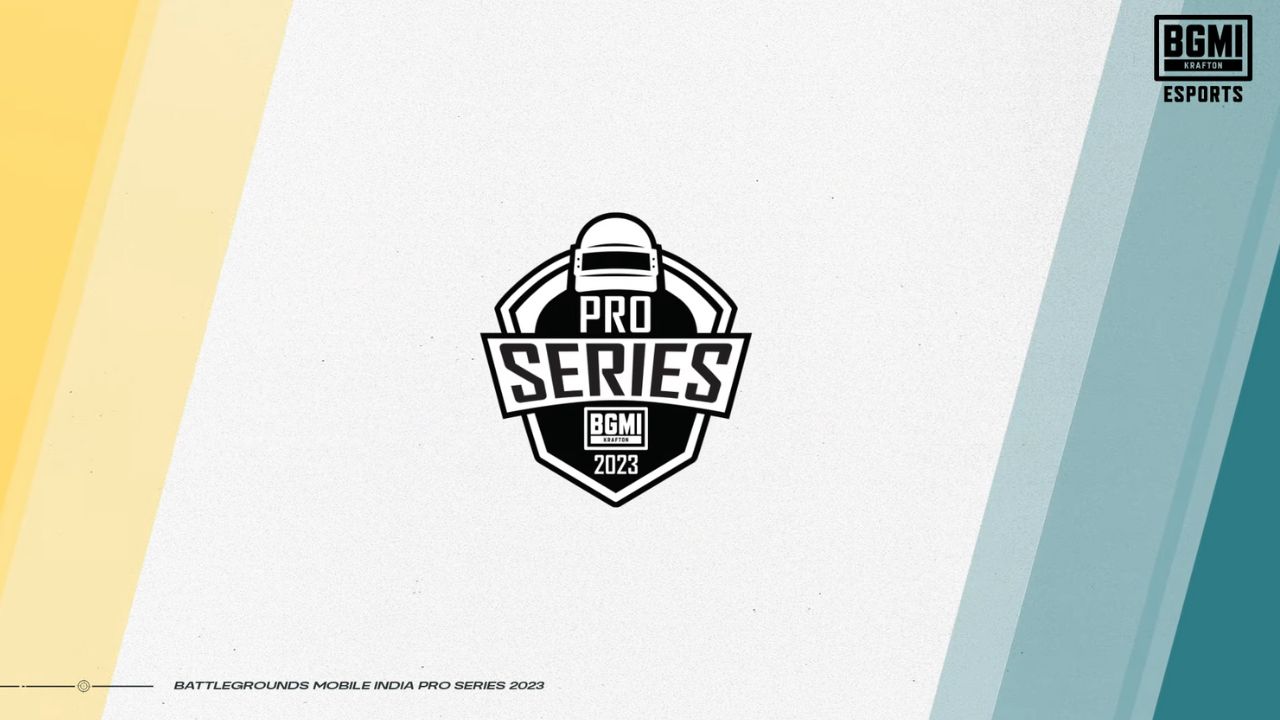 The Battlegrounds Mobile India Pro Series (BMPS) 2023 begins on November 22. Krafton, the event organizer, says 96 BGMI teams will compete for Rs 1 crore. The list of teams and more details are still to come.
Krafton India Esports released the BMPS 2023 trailer on November 20. It shows the prize, team count, and start date. The company's statement highlights an exciting series with top teams and big prizes.
"Gear up for an electrifying experience. BATTLEGROUNDS MOBILE INDIA PRO SERIES 2023 is back with 96 Top Teams and a massive 1 Crore Prize Pool.The Battle of the Pros is set to unfold, promising intense clashes and thrilling victories. Dive into the action – it's not just a competition; it's a game for glory that'll keep you on the edge of your seat."

KRAFTON India Esports
BMPS 2023 Invited Teams and Previous BGMI Events
This second BMPS edition will have 96 teams from India. These teams did well in the Battlegrounds Mobile India Series (BGIS) 2023. Many teams have new players for this last official BGMI tournament of 2023. Fans can watch it live on Krafton India Esports' YouTube channel.
The prize pool is smaller than last time as BMPS 2023 is an invited tournament. In 2022, Team Soul won BMPS 2022 and got Rs 75 lakh. Their player, Goblin (Harsh Paudwal) got the MVP title for his amazing gameplay in the finals.
Before BMPS 2023, GodLike Esports added Jelly (Gunjan Thakur) as their new leader. They came seventh in the Red Bull M.E.O. Teams like Hyderabad Hydras, Autobotz, and Team XSpark changed their lineups too.
Teams such as Soul, GodLike Esports, and Orangutan didn't do well in BGIS 2023. They hope to win their first trophy of the year in this tournament. But there are some teams such Gladiators Esports, and Blind Esports which are dominating in the BGMI Esports scenarios since the game is back. So it's going to be tough for the popular fan team to win this tournament. This event is going to be packed the amazing actions so keep visiting for the latest updates.
For More Such Updates Follow Us On – Telegram, Twitter, Google News, WhatsApp and Facebook
Krafton Reveals BMPS 2023, India's Next Big Esports Tournament
Krafton has just announced the Battlegrounds Mobile India Pro Series 2023, also known as BMPS 2023. This big news was shared on Krafton's official Instagram. The company is telling gamers to get ready for some top-level gaming action.
BMPS is a major league in the world of Battlegrounds Mobile India (BGMI). Here, pro teams from across India compete for big prizes. Teams that have shown skill in past tournaments and those loved by fans might get the chance to play in BMPS's second season.
This announcement follows the Battlegrounds Mobile India Series (BGIS) 2023. That event wrapped up on October 15 with a big prize pool. Now, Krafton is gearing up for BMPS 2023. This tournament is going to be big in India, especially since the ban on such events was lifted.
We don't have the exact dates and format for the event yet. According to some sources, the tournament will be invitational where popular teams in India will be invited. In the last season of BMPS, the open qualifier happened first in the name of the tournament which was Battlegrounds Mobile India Open Challenge 2022. After several rounds, the best 32 teams from these qualifiers got to play against 32 teams that were invited directly. From these, 24 teams made it to the first season of BMPS. Team Soul came out on top, and their player Goblin was named the most valuable player (MVP).
Now let's wait for the official announcement by Krafton about dates, format, and how the tournament is going to happen.
For More Such Updates Follow Us On – Telegram, Twitter, Google News, WhatsApp and Facebook
OxygenOS 14 Now lets you record BGMI Gameplay in 90FPS with Android 14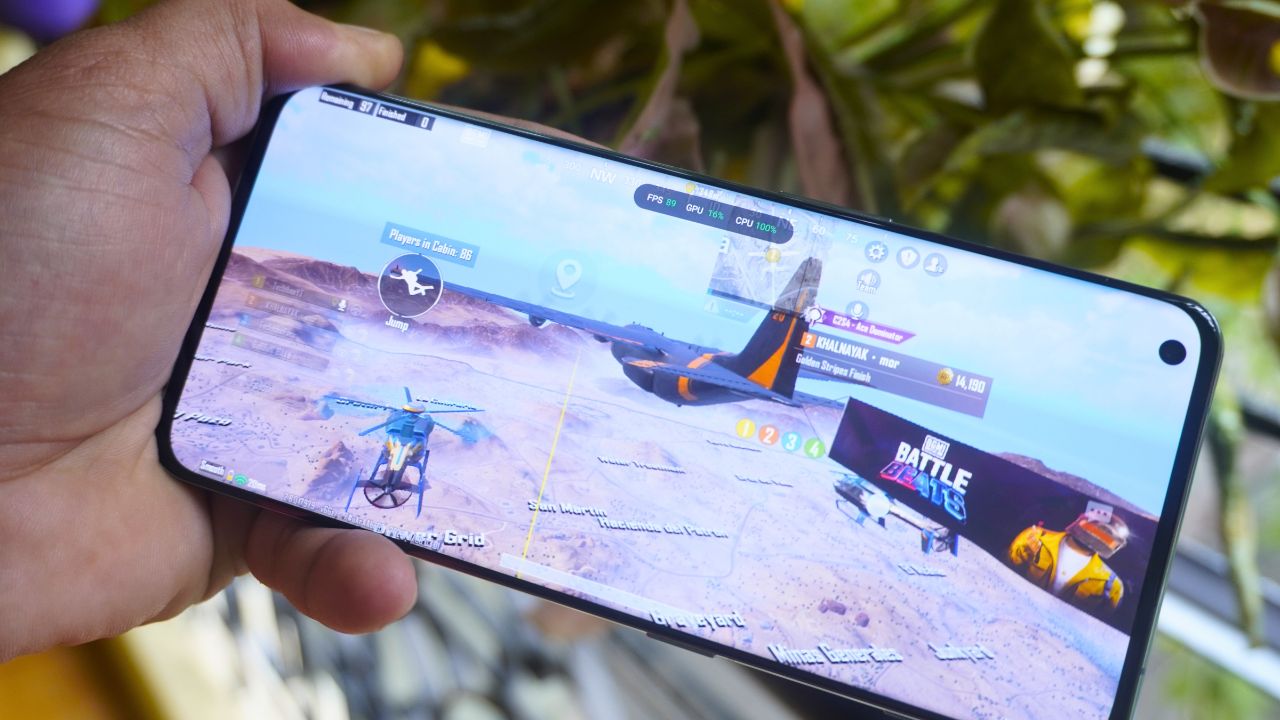 OnePlus is rolling out OxygenOS 14 for many OnePlus smartphones and the OnePlus 11 has already received four beta builds of OxygenOS 14 followed by the Oneplus 10 series and Oneplus Nord 3 both of which received two Oen beta builds. Other devices starting including the OnePlus 8T start getting the OxygenOS 14 open beta build in November.
In the past, the company had restricted screen recording to only up to 60 FPS while recording BGMI gameplay. But now, after the OxygenOS 14 beta update OnePlus 11 and OnePlus 10 Pro both can record 90 FPS gameplay. The below screenshot was taken while recording BGMI gameplay.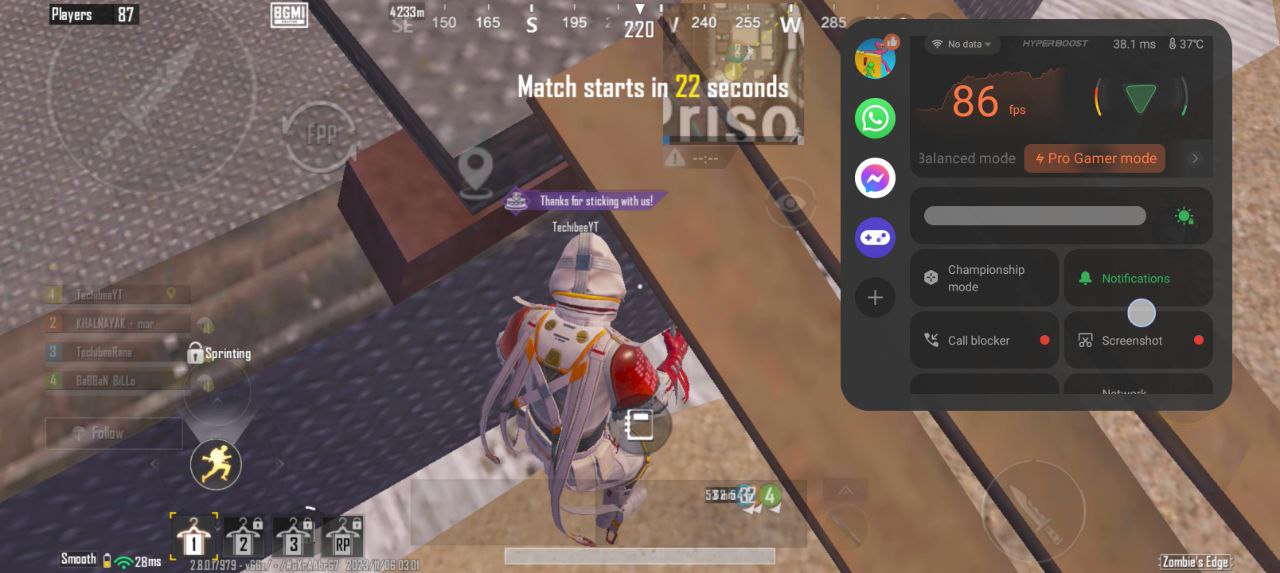 Remember Recording gameplay on a 90 FPS device heats up a lot and once your device heats up, the FPS drops from 90 FPS to 60 FPS while gaming. We can still record with 90 FPS if we manage to keep the device cool. We always use OnePlus 18W Phone Cooler to maintain Constant 90 FPS on the OnePlus 11, while using the cooler we can easily record 90 FPS without affecting the gameplay performance.
How to Record BGMI 90 FPS Gameplay in OnePlus Smartphones
Use the below setting to record your gameplay in 90 FPS and ensure you have the latest version of the screen recorder app. Before starting screen recording, make these changes under picture quality. The definition is to be set to high 2K 32 Mbps and also set the frame rate to Dynamic.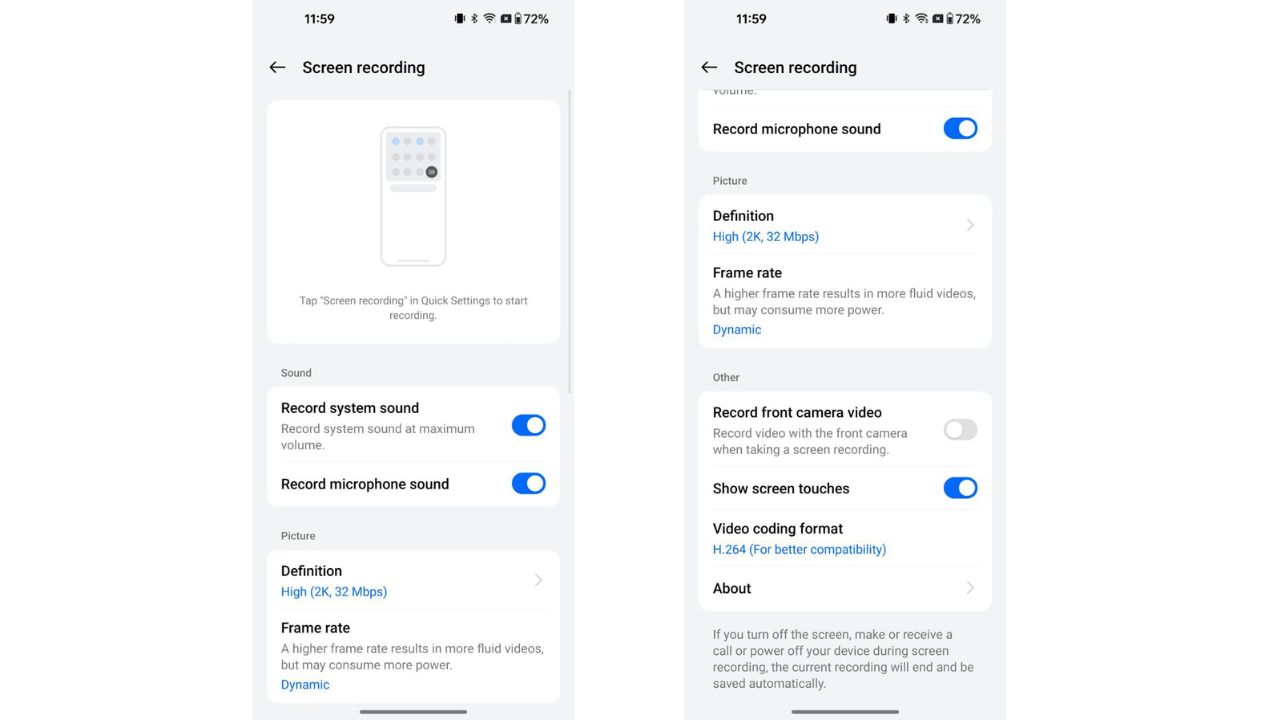 How many of you guys still play BGMI? Do you guys prefer gaming with 90 FPS or 60 FPS? Also, let us know below in the comment if you guys are able to record gameplay in 90FPS after OxygenOS 14.
For More Such Updates Follow Us On – Telegram, Twitter, Google News, WhatsApp and Facebook