Scout announced Squid Game Event for BGMI Content Creators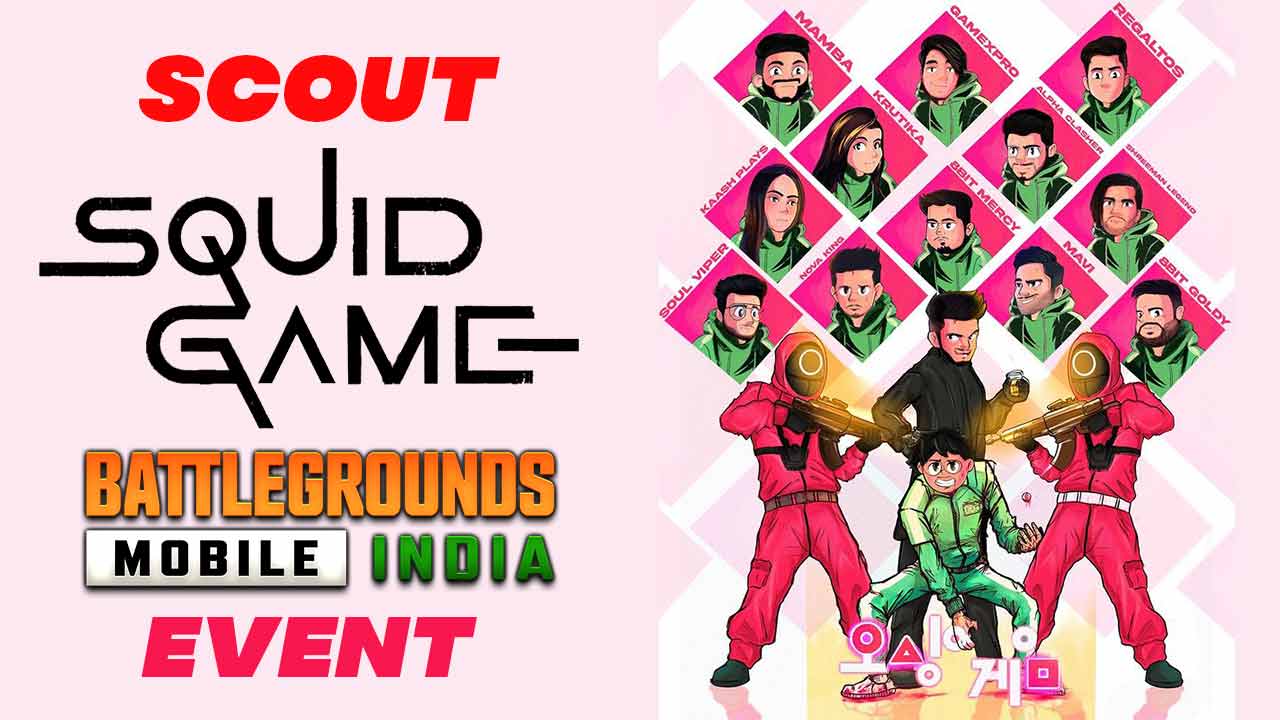 Tanmay Singh professionally known as "ScoutOP" is an E-sports player who has represented India in Player Unknown's Battlegrounds and is one of the most famous YouTubers with 4.2 million subscribers on YouTube. Scout is very well known for his tactics in PUBG for Entry Fragging, Assaulting accuracy of his laser-like m416 + 6x, scar + 4x, DMR spamming, and his IGL decisions. He has an Instagram verified account with 847 posts and 2.9 million followers.
"Inspired by the recent Korean Drama, Your Favourite creators are coming together to compete in the virtual battle of life and death! we all know it, The Squid Games ✨"
"Gamers in their own style, The ultimate goal here is to SURVIVE"
Recently Scout announced a special game event amongst BGMI Content creators and competitive players. The challenge is based on the popular Korean Drama series 'Squid Game' which got featured on Netflix and received an amazing response from audiences over the world. 
Tanmay Scout came up with an amazing idea to entertain his audience as well as the whole Indian game community. He has not revealed the whole scenario of the Squid Game challenge but there are some sneak peek told in the stream while explaining to his friends. 
If you have watched the most popular Squid Game Netflix series you must be aware of the challenges shown in the series itself. The same concept will be here in Scout's special challenge. He also said there will be a huge prize pool for the winner but there is the catch that as like in the series only one person received cash prize money, here also one winner will get the whole prize pool. 
Players have to survive multiple challenges while protecting themselves as well as shown in the series. This is going to happen in Battlegrounds Mobile India game like in customs or something else. 
View this post on Instagram
Scout Squid Game Event Creators are as follows:
Mamba

GameXpro

Regaltos

KaashPlays

Krutika

Alpha Clasher

Shreeman Legend

SouL Viper

Nova King

8bit Mercy

Mavi 

8bit Goldy
This is going to be excited definitely let's see when it is going to happen. A poster has been released on his Instagram as you must have seen in the article's featured image. 
Also read: PUBG New State ALPHA Early Access v0.9.13.91 Released – Download APK + OBB
If you like our article then follow us on Google news, Instagram or join our Telegram Group. For the latest TechNews and Reviews, follow Techibee on Twitter, Facebook, and subscribe to our Youtube channel.
For More Such Updates Follow Us On – Telegram, Twitter, Google News, and Facebook