Stable OxygenOS 13 Update for OnePlus Nord CE is Finally Here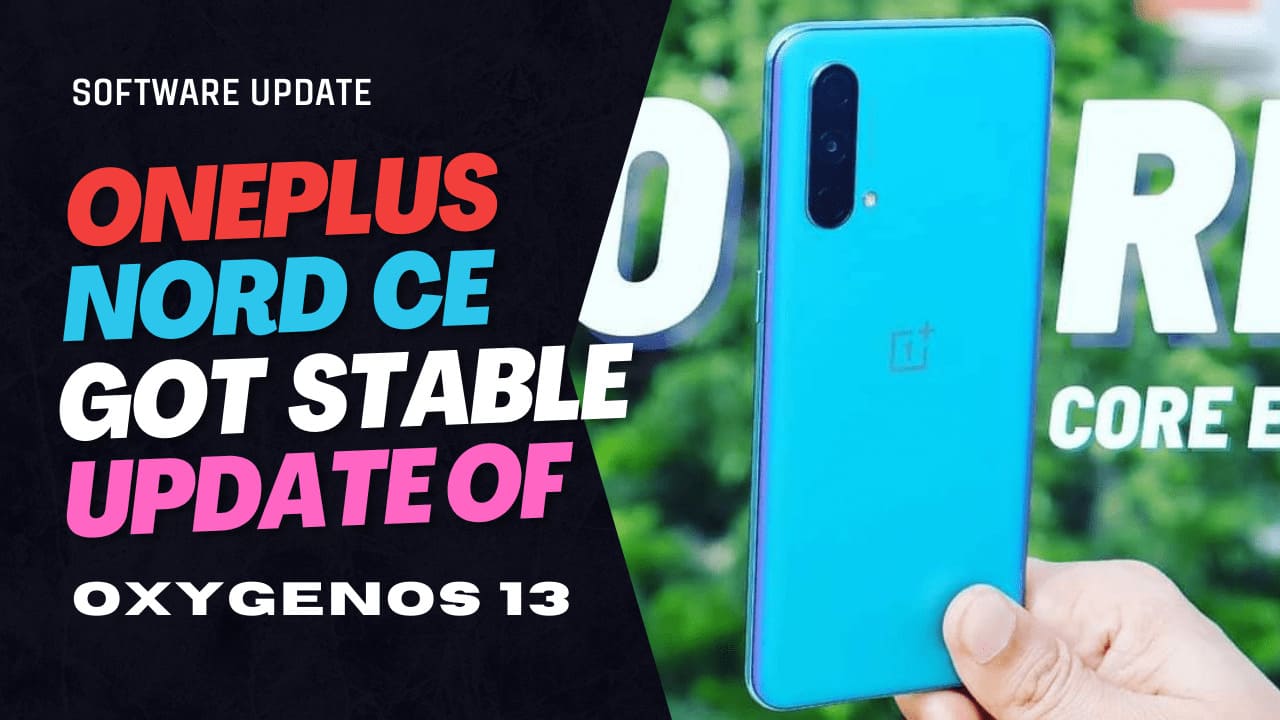 Most of the OnePlus smartphones in the Number series got the stable version of OxygenOS 13 based on 13.  In NORD SERIES OnePlus Nord 2 still waiting for the stable OxygenOS 13 Update. As OnePlus finally released the stable version of OxygenOS 13 based on Android 13 for OnePlus NORD CE.
In the Beta build, we have an issue with Jio 5G. The users of Jio 5G may have some applications unable to connect to the Internet during use occasionally.
To fix this in the Beta build,  first, we have to turn off 5G and restart the phone.
Changelog
Aquamorphic Design
• Adds Aquamorphic Design theme colors for enhanced visual comfort.
• Applies the Aquamorphic Design philosophy to animations to make them natural and vivid.
• Adds Shadow-Reflective Clock, with shadow simulating the orientation of the sun and moon.
• Adds a Home screen world clock widget to show the time in different time zones.
• Optimizes UI layers for a clearer and neater visual experience.
• Adapts responsive layouts to accommodate different screen sizes to improve readability.
• Optimizes the widget design to make information easier and quicker to find.
• Optimizes fonts for better readability.
• Optimizes system icons by using the latest color scheme to make the icons easier to recognize.
• Enriches and optimizes illustrations for features by incorporating multicultural and inclusive elements.
Efficiency
• Adds large folders to the Home screen. You can now open an app in an enlarged folder with just one tap and turn pages in the folder with a swipe.
• Adds a new type of Always-On Display that shows live information about music, ride-hailing, and food delivery. (Supports only some apps)
• Adds media playback control, and optimizes the Quick Settings experience.
• Adds more markup tools for screenshot editing.
• Adds support for adding widgets to the Home screen, making information display more personalized.
• Adds Sidebar Toolbox. You can open floating windows inside apps for smooth operation.
• Upgrades Doodle in Notes. You can now draw on graphics to take notes more efficiently.
• Optimizes Shelf. Swiping down on the Home screen will bring up Shelf by default. You can search content online and on your device.
Seamless interconnection
• Optimizes Screencast, with cast content automatically adapting to the target screen.
Personalization
• Optimizes Bitmoji to offer more Always-On Display animations.
• Adds Omoji to let you fully express yourself with customized avatars.
• Optimizes Insight Always-On Display, with more personalized Always-On Display settings available.
• Optimizes Portrait Silhouette Always-On Display, with more drawing tools and line colors available.
Security & privacy
• Adds an automatic pixelation feature for chat screenshots. The system can identify and automatically pixelate profile pictures and display names in a chat screenshot to protect your privacy.
• Adds regular clearing of clipboard data for privacy protection.
• Optimizes Private Safe. The Advanced Encryption Standard (AES) is used to encrypt all files for enhanced security of private files.
Health & Digital wellbeing
• Adds Kid Space. When in Kid Space, your browser app automatically switches to Kids mode to create a child-friendly space.
• Adds distance-from-phone, ambient light, and sitting posture reminders in Kid Space.
• Adds Eye comfort in Kid Space to protect children's vision.
Gaming experience
• Upgrades to HyperBoost GPA 4.0 to stabilize the frame rate and balance the performance and power consumption in key scenarios.
If you want to manually update your device then we'll provide you the link as soon as possible.
OnePlus Nord CE
IN EB2101_11.F.06 
Some of the users won't like OxygenOS 13 and want to roll back to 12. If you want to roll back any of your Smartphones from OnePlus Nord Series, then refer to this article. 
Also Read:OnePlus 9RT Receives OxygenOS 13 F.15 Update in India [March 2023]
If you like our article, follow us on Google News and Instagram, or join our Telegram Group. 
For More Such Updates Follow Us On – Telegram, Twitter, Google News, WhatsApp and Facebook
Nothing OS 2.5 Open Beta 1 with Android 14 Announced for Nothing Phone (2)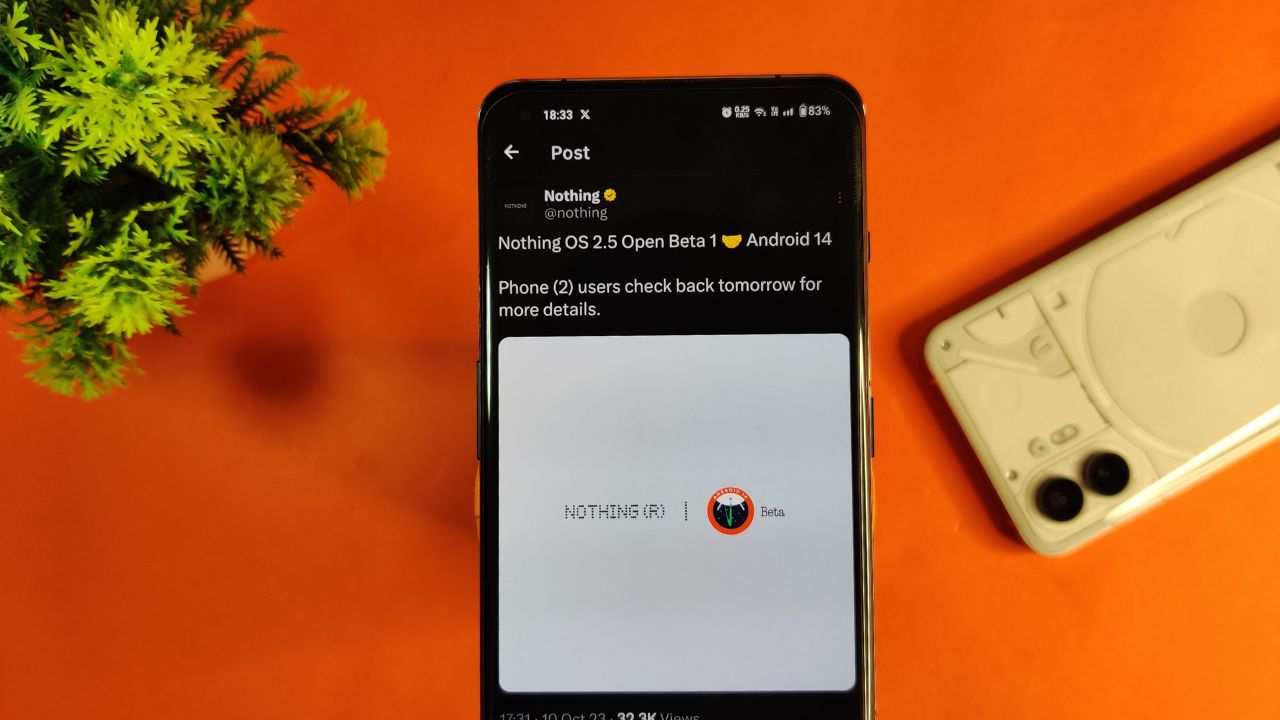 Nothing company has announced its next significant update "Nothing OS 2.5 Open Beta 1" for Nothing Phone (2) users. This new update is based on Android 14. Starting tomorrow, users of the Phone (2) can expect this update on their devices. If there are any special steps needed to install it, the company promises to provide guidance.
The announcement about Nothing OS 2.5 Open Beta 1 came via the company's official X handle, which used to be known as Twitter. According to their post, more details about this update will be shared on October 11.
However, there's a bit of a wait on the specifics. Nothing hasn't yet confirmed the exact time the update will be released. So for now Phone (2) users have to wait for a little while until the next announcement from the company.
For More Such Updates Follow Us On – Telegram, Twitter, Google News, WhatsApp and Facebook
Android 14 Update is Now Live for Pixel Devices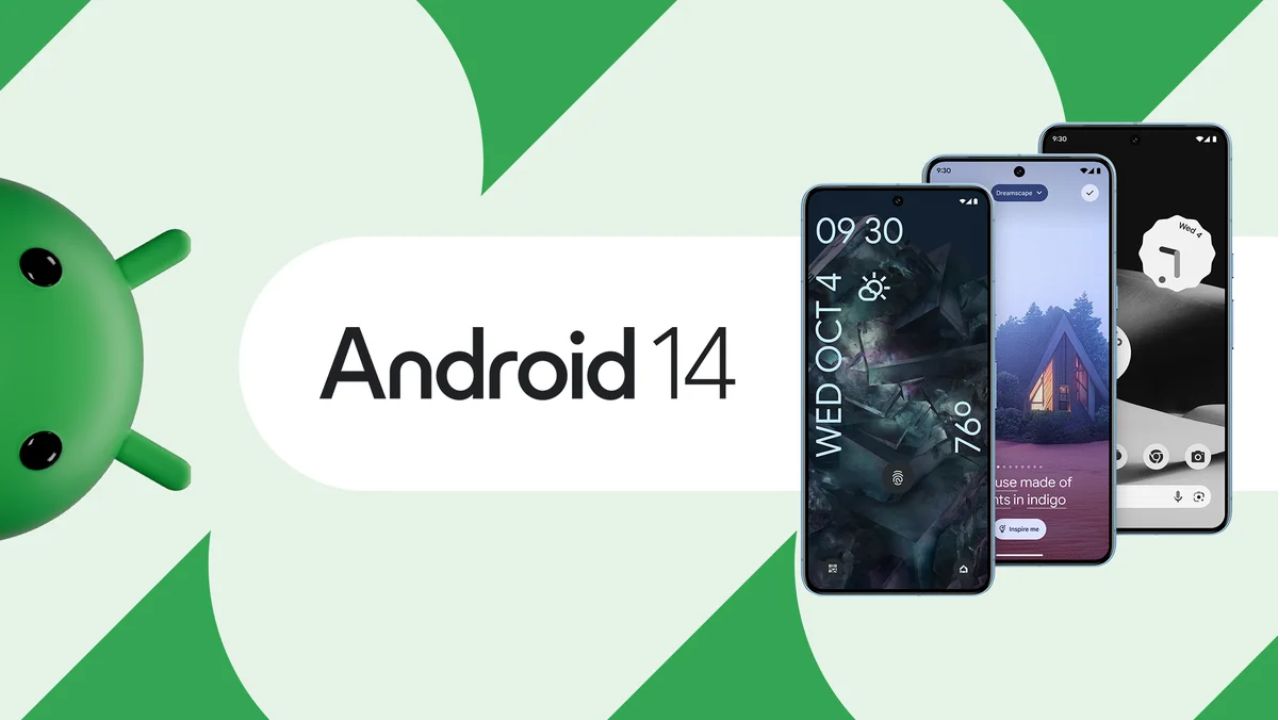 Google's Pixel devices are now receiving the much-awaited Android 14 update. This follows a preview program that began in February, where several previews and betas were issued. If you own a Pixel 4a 5G or a later model, you can download this latest Android version.
It's not just Pixel users who can look forward to this update. Companies like Samsung, iQOO, Nothing, OnePlus, Oppo, Realme, Sharp, Sony, Tecno, vivo, and Xiaomi plan to release Android 14 updates for their devices soon.
A highlight of Android 14 is its customization features. Google had hinted at these earlier, and now they are a reality. Generative AI wallpapers are making their debut on Pixel 8 and Pixel 8 Pro, backed by advanced text-to-image diffusion models.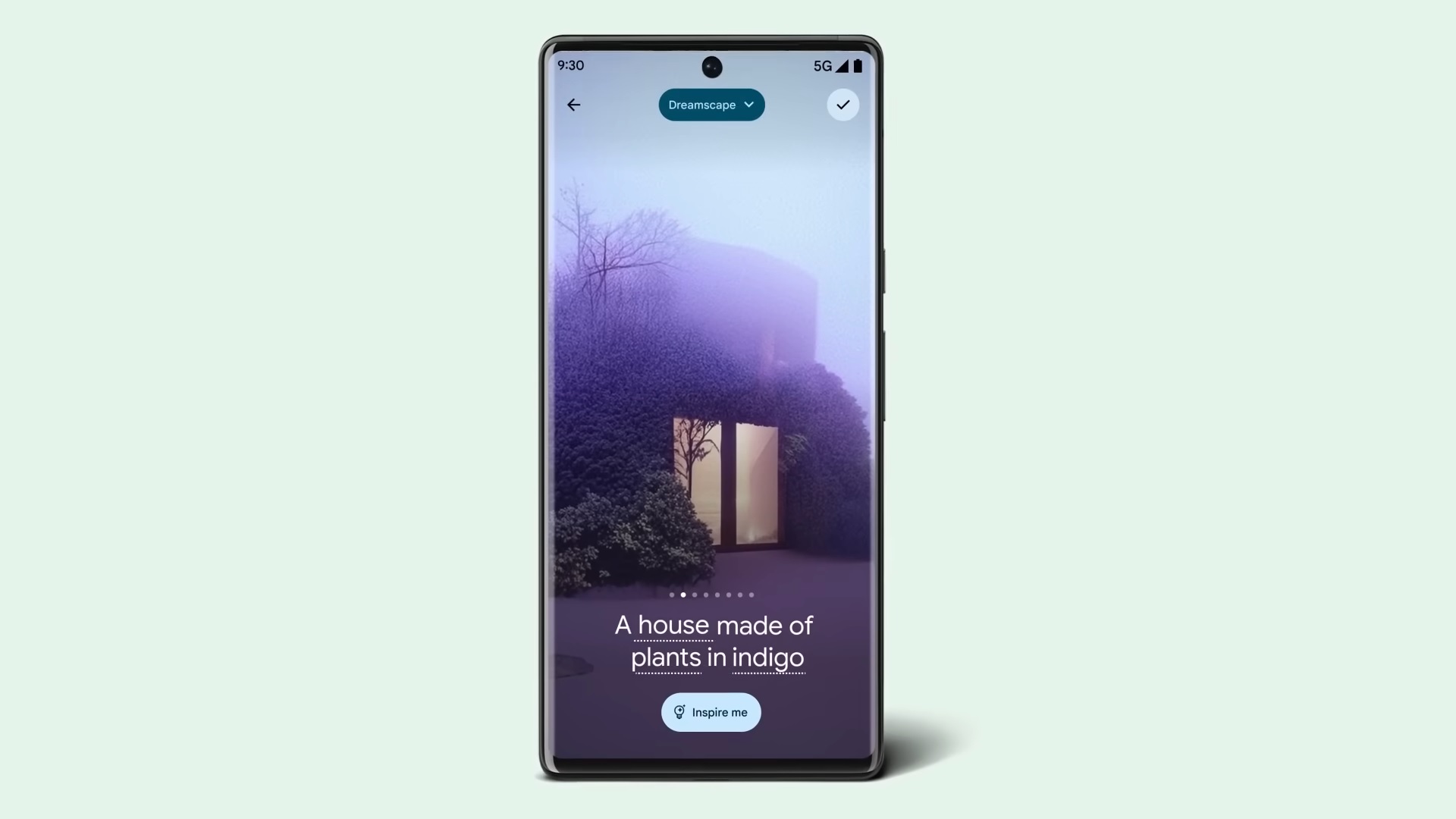 Lock screen personalization has also leveled up. Users can change font styles, choose from different color palettes, and add custom widget shortcuts. This makes it quick and easy to access tools like the QR reader or the Google Home app. There's even a new feature where the home screen templates adjust dynamically. For instance, if there's a storm approaching, the weather app widget becomes more noticeable.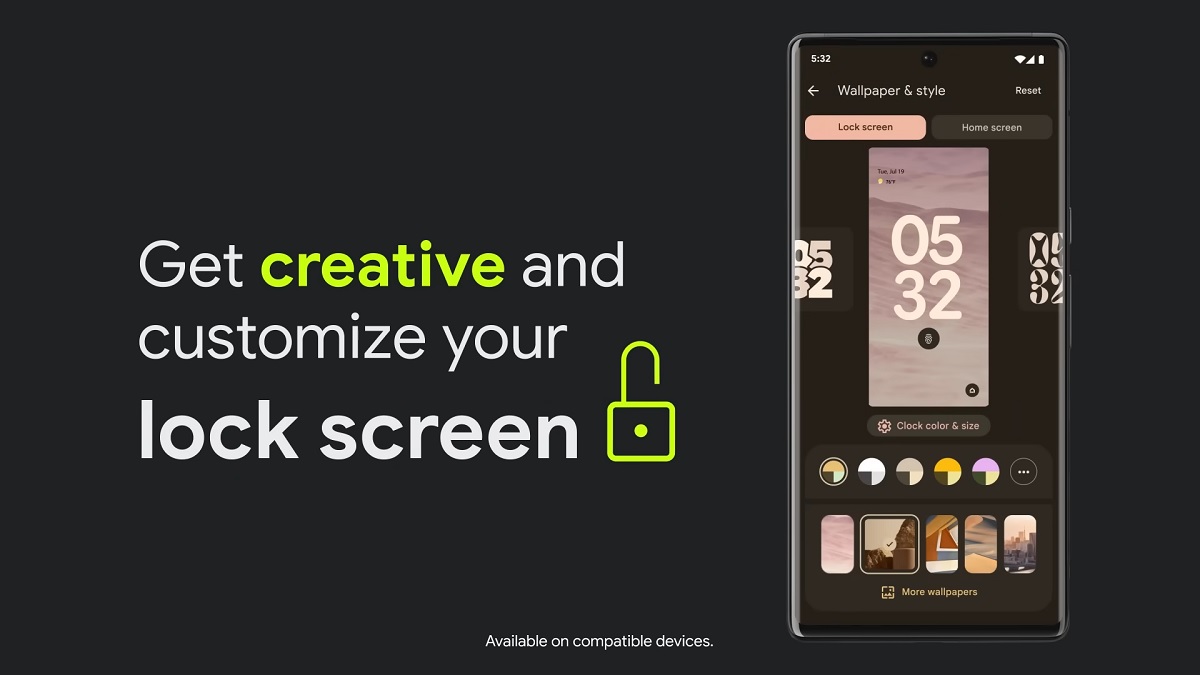 Photography enthusiasts will appreciate Android 14's support for HDR images. The Ultra HDR feature enhances photo quality, making pictures look more vibrant. Audio enhancements are also part of the package, with the inclusion of native spatial audio support, a new media player, and a cross-device copy/paste function.
Prioritizing user privacy and security, Android 14 introduces Health Connect. This feature securely stores and encrypts personal health data directly on the device. Users will now also receive alerts if apps want to share location data with third parties, and they have the option to decline such requests.
Improvements extend to passkey features. Android 14 offers enhanced support for fingerprint authentication in external apps. Additionally, there's a revamped 6-digit PIN lockscreen option.
Accessibility has also been a focus for this update. Users can now magnify content more effectively using the pinch-to-zoom feature and select from various magnification sizes. The quick settings menu offers faster font size adjustments using nonlinear scaling, which makes text easier to read. Hearing aid users will find the dedicated setup in the Accessibility settings beneficial, along with expanded options to direct audio to different outputs.
For More Such Updates Follow Us On – Telegram, Twitter, Google News, WhatsApp and Facebook
Is Android 14 Releasing on October 4? Telus Listing Suggests So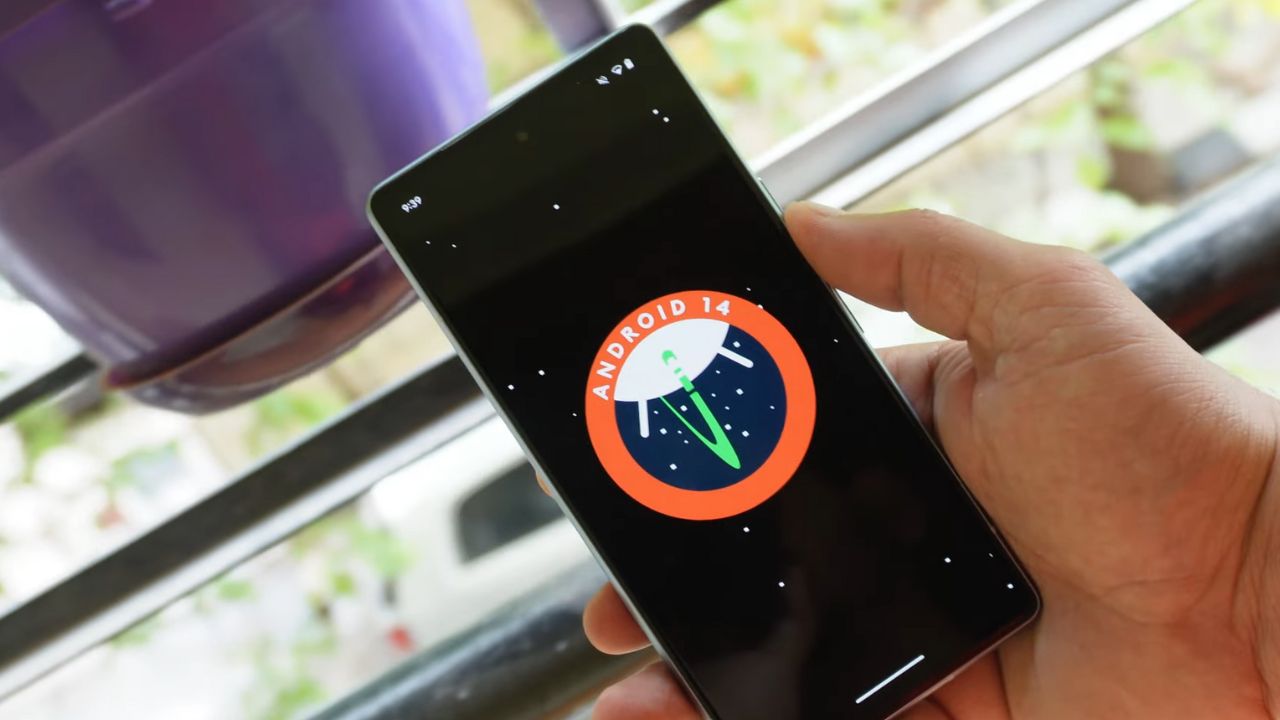 The release of Google's Android 14 has been much awaited. The latest buzz suggested that it would be unveiled on the same day as the Pixel 8 and Pixel 8 Pro announcement on October 4. While this was initially just a rumor the latest information seems to add some weight to it.
Canadian carrier Telus has provided a clue. They listed software update start dates for the devices they sell. For all Pixel devices beginning with the Pixel 4a the name "Android U" was set for an October 4 rollout.
The term Android U stands for Android Upside Down Cake. This is the inside name for Android 14. Interestingly this detail on Telus's list was later removed. This change might be because Google noticed the details circulating online and asked Telus to take the information down. This is just a guess. It's not clear what really happened. There's a small chance that the initial information was not correct.
But there's not much waiting left. In less than one day everything will be clear. If Android 14 is set to release on October 4 it is likely that Google will announce it at its big event. So everyone should watch out for that. We will keep you updated on any new developments.
Update: Droid-life.com has updated their article, saying that the information has been removed from the Telus listing as of now.
For More Such Updates Follow Us On – Telegram, Twitter, Google News, WhatsApp and Facebook