WhatsApp will offer up to Rs 33 in Cashback for Making UPI Payments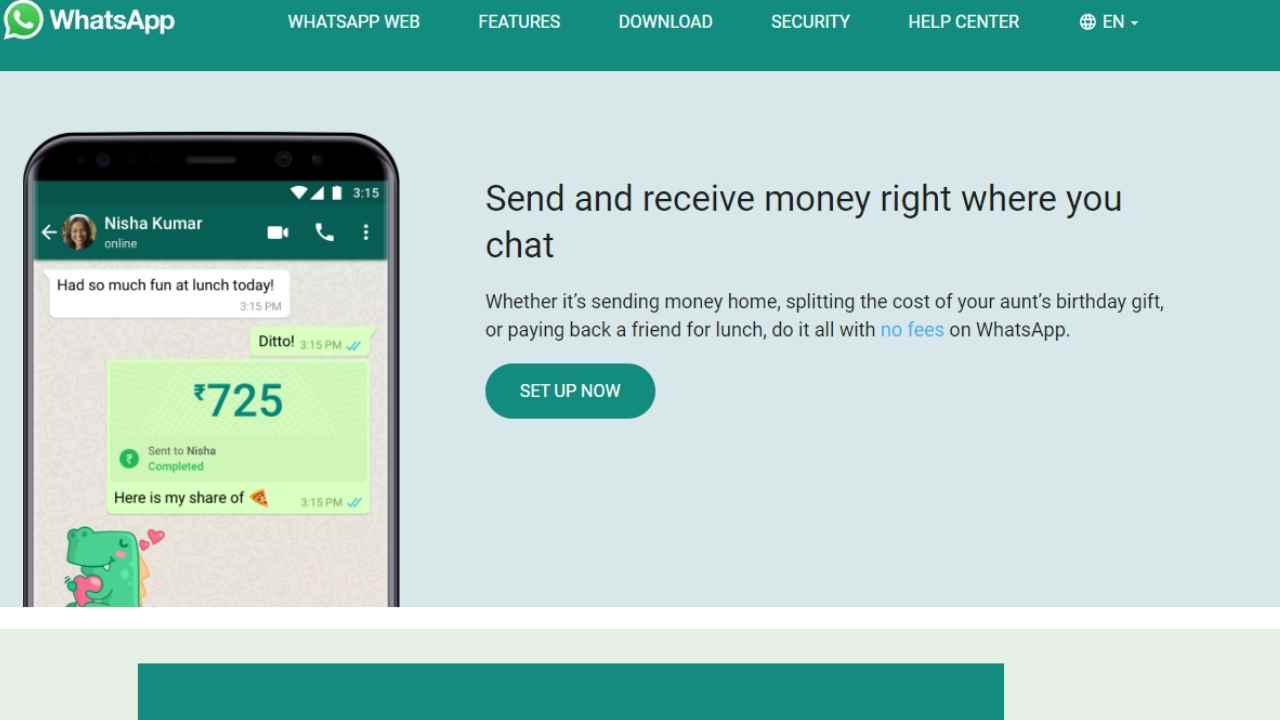 Only days after being granted permission to increase the number of WhatsApp Pay users in India to 100 million, sources say that the Meta-owned messaging giant is already attempting to entice new users by giving cashback benefits. To entice more Indians to utilize its in-app payment service, the business will reportedly start by offering a rebate of up to Rs 33 on UPI payments. Here are the specifics:
For UPI payments, WhatsApp will offer cashback rewards
According to a recent report citing inside sources, WhatsApp will soon launch a cashback reward scheme in India that would allow users to receive cashback rewards for completing UPI payments through WhatsApp Pay. The company is also developing ways to offer similar incentives to users for merchant payments, according to the report.
According to one of our sources, WhatsApp would provide users up to Rs 33 in cashback if they utilize its payment facility to make UPI payments to contacts. Users will be able to receive cashback rewards after three transactions, and there will be no minimum amount they can send. This indicates that sending Re 1 to one of your WhatsApp acquaintances will reward you with Rs 33.
Read More: Google is Testing Ads on YouTube shorts, To compete with TikTok
Late last year, WhatsApp tested a similar cashback reward program in India, offering Rs 51 payback to WhatsApp Pay users. The current cashback scheme will supposedly be available to all users by the end of May, despite being confined to a few WhatsApp beta testers on Android.
Apart from that, the sources claim that WhatsApp is testing ways to offer users similar incentives for using its payment service to make merchant payments. WhatsApp will offer comparable prizes to users who pay highway tolls, utility bills, and other bills via WhatsApp Pay as part of this campaign. Furthermore, the business plans to implement an incentive scheme for users who use WhatsApp to pay their Reliance Jio bills or prepaid payments.
This move, according to WhatsApp, is intended to attract more Indian users to WhatsApp Pay and compete with rival UPI payment apps such as Google Pay, PhonePe, and Paytm. According to reports, the business performed an internal study on the subject last year and determined that in India, "incentives are among the top sign up reasons for [its] competitor apps."
Also read: Some Miui updates by Xiaomi are Bricking some phones, camera crashes etc – Beware before installing
If you like our article then follow us on Google News, and Instagram, or join our Telegram Group. For the latest TechNews and Reviews, follow Techibee on Twitter and Facebook, and subscribe to our YouTube channel.
For More Such Updates Follow Us On – Telegram, Twitter, Google News, and Facebook