TCL Showcases Rollable Display And Tri-Fold Foldable Concept Phones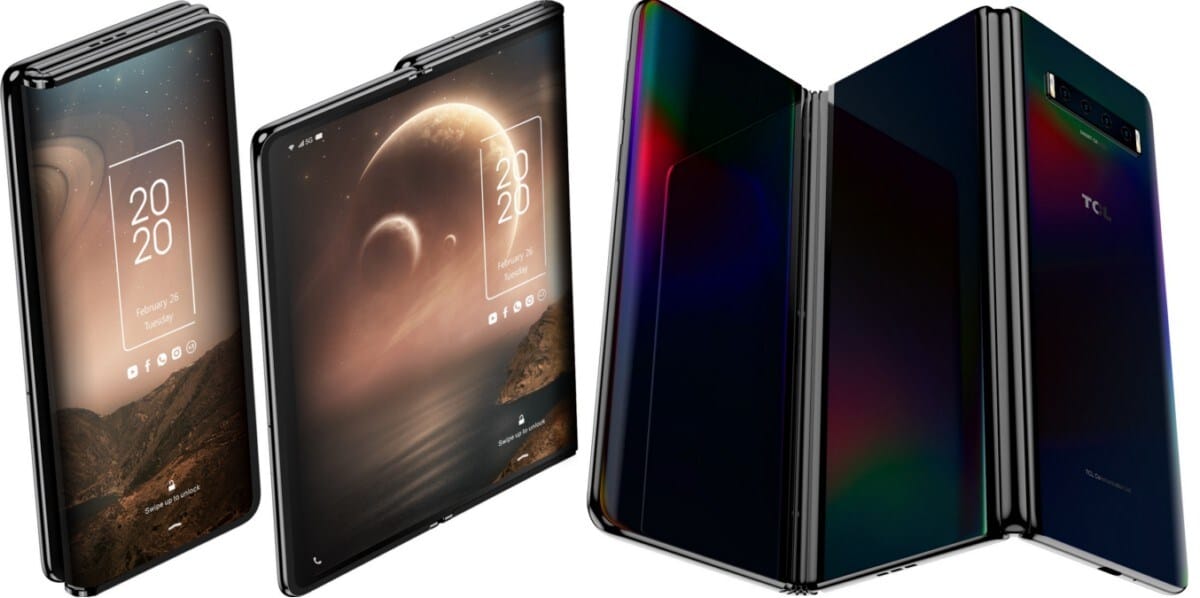 TCL has showcased two new concept phones, Tri-Fold Foldable, and Rollable display phones.
The Tri-fold phone-tablet hybrid folds twice like the letter Z. The first fold bends inwards while the remaining portion bends outwards along the crease. The Rollable concept device looks like a regular phone, but it conceals a rollable mechanism that hides the remaining portion of the display which can be pulled out via a motorized mechanism to turn it into a tablet.
Both phones' display panels are developed by TCL-CSOT. The tri-fold features a flexible AMOLED technology that converts a 10-inch tablet into a 6.65-inch device. The folded display has an aspect ratio of 20.8:9 and a 3K resolution.
TCL has used two different Hinge technology for Tri-fold foldable concept phones – DragonHinge and ButterflyHinge for the working prototype. Same to the Galaxy fold, one of the hinges fold inside while the second hinge folds outward like Huawei Mate X.
The rollable display concept hides a motorized mechanism that keeps a portion of the display hidden. The AMOLED display extends sideways from underneath and retracts inside by pushing a button. The hidden portion of the display extends outwards towards the right, turning the display into a 7.8-inch tablet. When not being used in tablet mode, the motor automatically retracts the display and turns into a 6.75-inch regular phone.
The phone does not allow any manual pull-push motions. The change in display form enables additional features like split-screen and multitasking enhancements. With this design style, we won't have to deal with wrinkles or creases on the foldable OLED screen.
TCL has not announced any specifications about both the concept devices. Even pricing and availability details of the devices have not been announced by TCL yet, as both devices are not ready to go commercial.
For the latest TechNews and Reviews, follow Techibee on Twitter, Facebook, and subscribe to our Youtube channel.
Also read: Realme 6,6 Pro And Realme Band Launched In India
For More Such Updates Follow Us On – Telegram, Twitter, Google News, and Facebook