Color OS 12 open beta 1 for Oneplus 9 & 9 pro Download now.
Oxygen OS 12 open beta 1 is already available for Oneplus 9 Series.
OnePlus is a sub-brand of the Oppo family, the two companies not only merged their R&D departments in early 2021, but they are also consolidating code for their two Android-based operating systems. While Oxygen OS 12 will be used on global OnePlus phones, Color OS 12 will only be on China-only Oppo and OnePlus phones.
Oppo will introduce the global ROM of Color OS 12 next Monday, which should be slightly different from the version announced in China last month and is already available for some Chinese Oppo and OnePlus units.
Oppo and OnePlus have announced that their Find X3 series and OnePlus 9 series smartphones are getting a ColorOS 12 update through an open beta in China.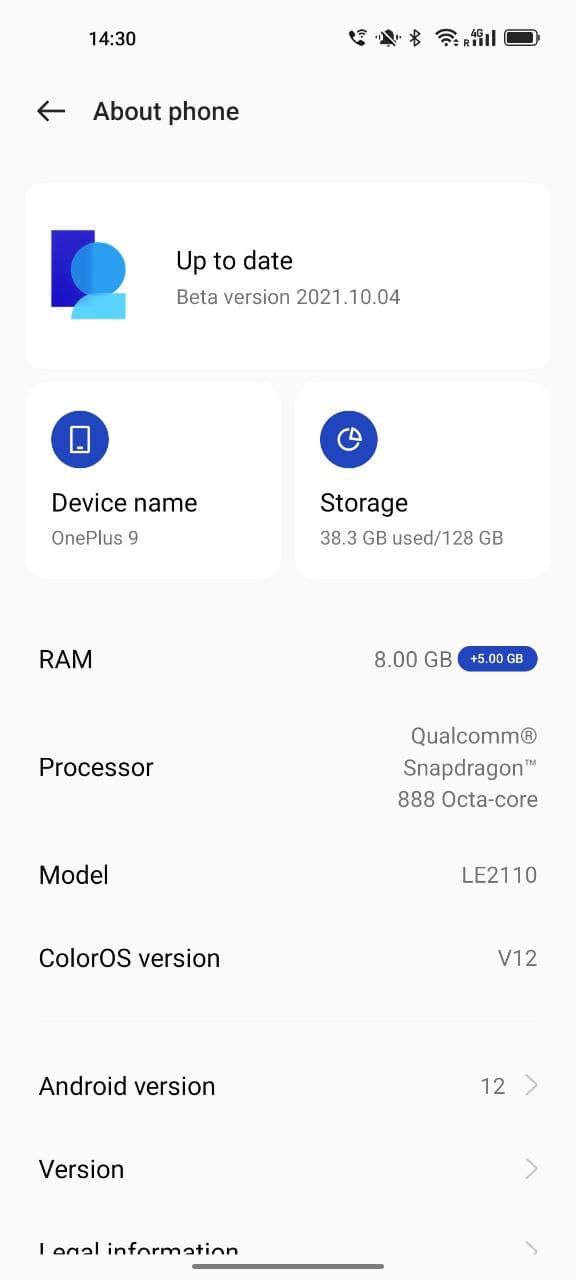 Changelogs of Color OS 12 open beta 1
New design
borderless design concept evolved again, the real noise reduction design language, makes the experience simple and easy, without the burden [New] Quick Facts cards, providing smart card applications and efficient, The key information is clear at a glance, and the key functions can be reached with one touch. [New] Noise reduction design, reconfiguration of page layout, optimized text and color display, more focused core information [Optimization] Quantum animation engine 3.0, centered on quality, simulating real physical movement optimize the 300+ animation details, bring more natural interactive experience
Convenient and efficient
[new] notes graffiti tools, personalized record life bit by bit [optimization] intelligent sidebar – supports intelligent recommendation related functions in video and shopping scene – Add shorthand for small windows, click to enter the floating window of notes, and quickly complete recording-Added smart subtitles, support for recognizing conference and call voice, real-time generation of subtitles, and support for translation between Chinese and English-Added drama mode, support for switching to Continue to listen to the video sound in other APP scenes or when the screen is locked-Added recognition of background music, quick recognition of background music in short videos, no need to ask for music-Added article reading, supports one-click reading of WeChat official accounts, today's headlines and other information Content-New product price comparison, when using shopping software, one-click display of high-quality and cheap goods of the same style [Optimization] Flash Da window upgrade to free floating window [Optimization] Xiaobu suggestion, new schedule assistant, intelligent integration of schedule information, one station-style view and manage [optimization] recording, voice-to-text to enhance the speed and accuracy, reduce long waiting [optimization] text message conversation bubbles pages can double-click the enlarged display, extract the contents of text messages more convenient
Seamless interconnection
[new] my equipment, unified intelligent device center, quickly and easily manage and control [optimization] screen sharing – outgoing sender and receiver to share a key to toggle the screen and control authority – can hide sensitive micro notification letter, phone, text messaging and other screen sharing
Security privacy
[New] Sharing photos or videos supports erasing location information and shooting data. [Optimization] After the mobile phone is lost, it can not be shut down or used by cloud lock, reducing the risk of data loss [Optimization] The mobile phone manager integrates privacy doubles and codebooks More security and privacy features such as, emergency calls [Optimization] When the application calls sensitive permissions such as camera, recording, positioning, etc., the status bar icon prompts more eye-catching [Optimization] Medical emergency card, supports automatic emergency medical card when dialing 120 Encrypted transmission of information to the emergency center [Optimization] Earthquake warning, new function preview page, new earthquake banner notification reminder with estimated intensity 2.0 and below, earthquake information is always warned [Optimization] Harassment interception, new MMS interception capability, reducing spam information disturb
Performance optimization
[Add] graphically show recording power, battery consumption quickly learn more [optimized] switch WLAN, Bluetooth, airplane mode, when the NFC faster response [optimized] third application scenario frequency load speed upgrade, brush microblogging, watching videos more fun
Game
[new] resource Kit update in the game, the game can be switched to the background update (support only part of the game) [new] Games skill Games during pop, complex game disk, helping to quickly master the gameplay (supported only part of the game) [optimization] battle groups under high-load scenarios, the game frame rate performance is more stable [optimization] reduce processor load average heterogeneous computing, lower power consumption game
Camera
[new increasing] customize the order of the camera mode, fast and easy to switch to the camera mode used [optimized] zoom inertia, post a video capturing mode, drag the slider to uniform zoom
System
[optimization] automatic brightness adjustment algorithm, optimization of intelligent scene detection , browsing screen more comfortable [optimization] curved screen edge anti inadvertently algorithm, reducing the probability of the screen inadvertently
Accessible
[optimization] accessible formats – new visual presentation, adding features page image description – optimized functional classification, in accordance with the visual / audible / Interactive / general classification for display-TalkBack adapts to more system applications such as albums, calls, emails, calendars, etc.
Download Color OS 12 open beta 1
Oneplus 9 : Full zip Download
Oneplus 9 pro : Full zip Download