OnePlus made a few big announcements at Mobile World Congress 2022 today, February 28. The OnePlus 10 Pro finally has a global (India included) launch window—this is end of March. There seems to be an extremely affordable 5G OnePlus phone in the works, also, set to launch sometime this year. New IoT devices, too, are incoming. Oppo has separately announced a 150W SuperVOOC fast charging solution, that will debut in an unannounced—and unnamed—OnePlus phone in Q2, 2022. Last but not the least, there's some good news coming for long-time OnePlus fans as well—OxygenOS 13 will seemingly bring back the clean, close-to-stock Android experience that OnePlus phones were known for before its merger with Oppo (though it will continue to share the codebase with ColorOS so OnePlus can roll out speedy updates).
Today Oneplus started to roll out a new update for Oneplus 9 & 9 pro based on ColorOS 12.1 version C.66 & this update brings a lot of new add-ons to the Camera app for eg: Camera gets Super text mode, quickly realizes picture-to-text, one-key scanning recognition, and extraction along with some more add-ons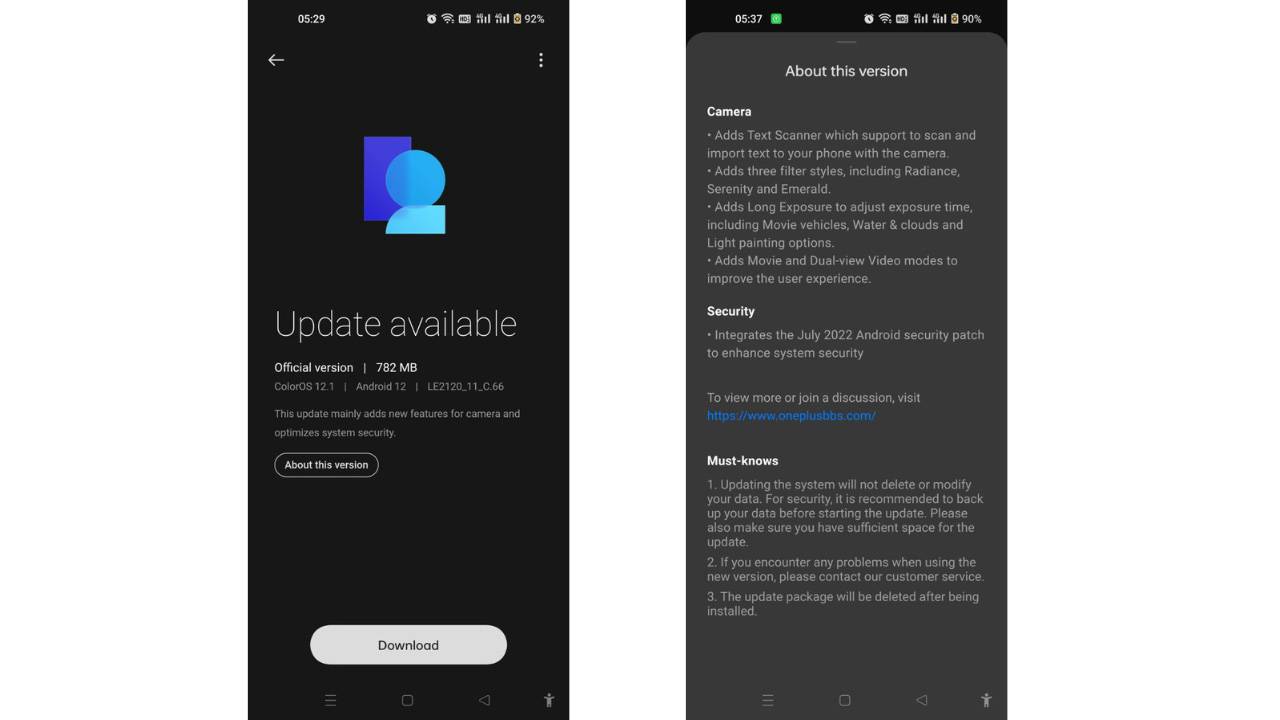 Changelogs of ColorOS 12.1 C.66
Camera
Adds Text Scanner which support to scan and . import text to your phone with the camera.
Adds three filter styles, including Radiance, Serenity and Emerald.
Adds Long Exposure to adjust exposure time, including Movie vehicles, Water & clouds, and Light painting options.
Adds Movie and Dual-view Video modes to improve the user experience.
Security
Integrates the July 2022 Android security patch to enhance system security
How to Install ColorOS 12.1 C.66 on Oneplus 9 & 9 pro
If Running OxygenOS latest build then the phone needs to be downgraded to OxygenOS 12.1 C.47 version (Download Rollback packages: Here)
Once downgraded make sure the phone is running OxygenOS 12 C.47
Oneplus Local update apk: Download from Telegram – Official Link
Download the latest ColorOS 12.1 zip package from the below links.
Copy the ROM upgrade package to the phone storage.
Go to Settings -> System -> System Updates -> Click top right icon -> Local upgrade -> Click on the corresponding installation package -> upgrade -> System upgrade completed to 100%.
After the upgrade is complete, click Restart.
Update successful.
Download ColorOS 12.1 C.66:
If you like our article then follow us on Google news, and Instagram, or join our Telegram Group. For the latest TechNews and Reviews, follow Techibee on Twitter and Facebook, and subscribe to our Youtube channel.