Google Introduces Emoji Workshop Wallpaper App in Android 14 Beta 3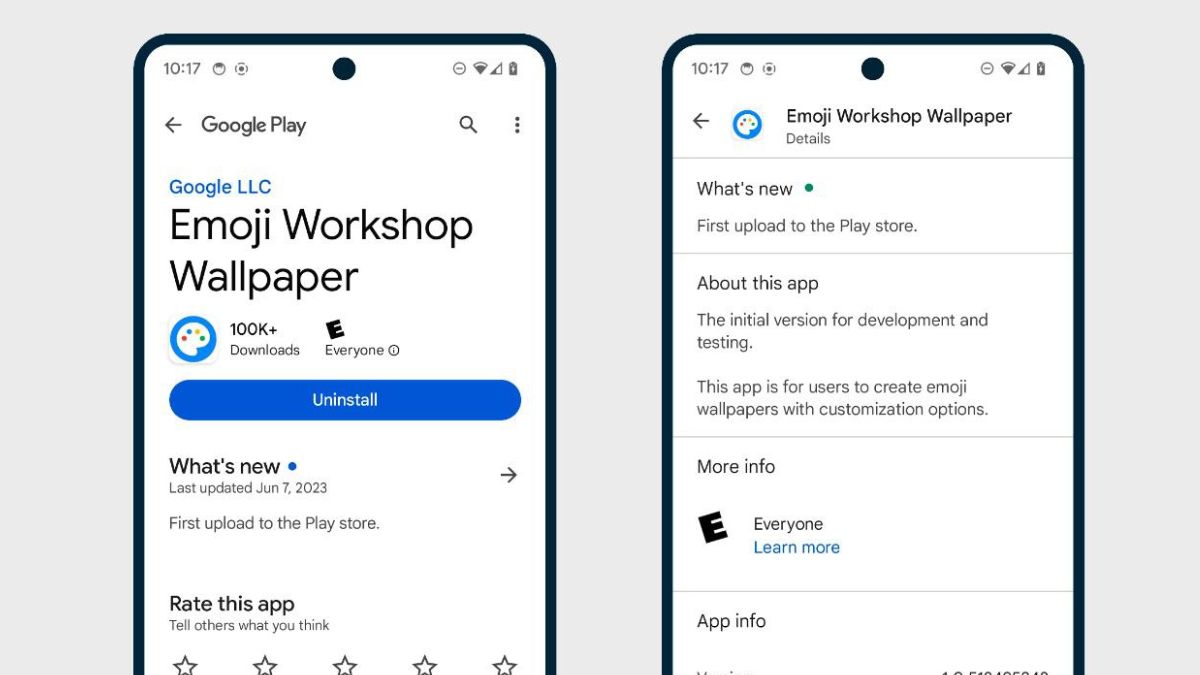 Emojis have become an indispensable part of our digital conversations, adding a touch of fun and expressiveness to our messages. Taking this experience to the next level, Google has unveiled an exciting feature called Emoji Wallpaper in Android 14 Beta 3. This feature allows users to create unique and personalized wallpapers using their favorite emojis, adding a delightful touch to their Android devices.
What is Emoji Workshop Wallpaper app?
The Emoji Workshop Wallpaper app, featured in the latest Android 14 Beta 3 release, showcases an advanced version of the Emoji Wallpaper that Google had previously teased. This visually stunning and interactive live wallpaper application enhances the overall user experience, making the Android device truly personalized and engaging.
Setting up the Emoji Wallpaper is a simple process that allows users to express their creativity and individuality. By following a few easy steps, users can transform their device's homescreen and lockscreen with vibrant and animated emoji wallpapers.
To access the Emoji Workshop Wallpaper app, users can download the latest Emoji Workshop APK from the Android 14 Beta 3 release. The APK file can be easily installed on Android devices, granting users the ability to set both static and live emoji wallpapers.
Key Features of Google's Emoji Wallpaper in Android 14:
Personalization: Users can customize their devices by selecting their favorite emojis to create wallpapers that reflect their personality and mood.
Creativity: The Emoji Workshop Wallpaper app offers a fun and creative way to design unique wallpapers, ensuring that no two devices will have the same look.
Ease of Use: Creating a custom wallpaper with the Emoji Wallpaper app is relatively simple, allowing users to effortlessly set their creations on both the homescreen and lockscreen.
As Android users continue to seek personalized experiences, Google's Emoji Workshop Wallpaper app presents a delightful and interactive solution. By embracing the expressive power of emojis, users can inject a sense of playfulness and individuality into their daily smartphone interactions.
With the availability of Android 14 Beta 3, enthusiasts and emoji aficionados can now explore the Emoji Workshop Wallpaper app firsthand. By downloading the latest Emoji Workshop APK, Android users gain access to a world of creativity, empowering them to redefine the look and feel of their devices.
As the digital communication landscape evolves, Google remains at the forefront of innovation, continuously introducing exciting features to enhance user experiences. The Emoji Workshop Wallpaper app is yet another testament to the company's commitment to delivering cutting-edge customization options to its Android user base.
So, why settle for a generic wallpaper when you can create your own personalized emoji masterpiece? Download the Emoji Workshop APK today and unlock a world of creative possibilities on your Android device.
Download Emoji Workshop Wallpaper APK to Customize Your Android Device
Get your hands on the latest Emoji Workshop Wallpaper APK from Android 14 Beta 3, exclusively compatible with Pixel devices running Android 13 or later.
Create Your Own Emoji Wallpaper with These Easy Steps
Creating your personalized Emoji Wallpaper in Android 14 is a breeze. Just follow these straightforward steps:
Navigate to Settings > Wallpaper & Style > Wallpaper. OR long-press on the home screen and select wallpaper.
Tap on Emoji Wallpaper.
Choose your desired emojis to feature on your wallpaper.
Select a captivating pattern that complements your chosen emojis.
Customize the color theme to suit your preferences.
Finally, tap on Set Wallpaper to apply your unique creation.
Note: The Emoji Workshop APK is specifically available for Android 14 Beta 3 and may require additional updates or compatibility adjustments for different Android versions.
For More Such Updates Follow Us On – Telegram, Twitter, Google News, and Facebook