Nothing OS 2.0 vs Nothing OS 1.5.6: Is the Update Worth It for Nothing Phone (1)?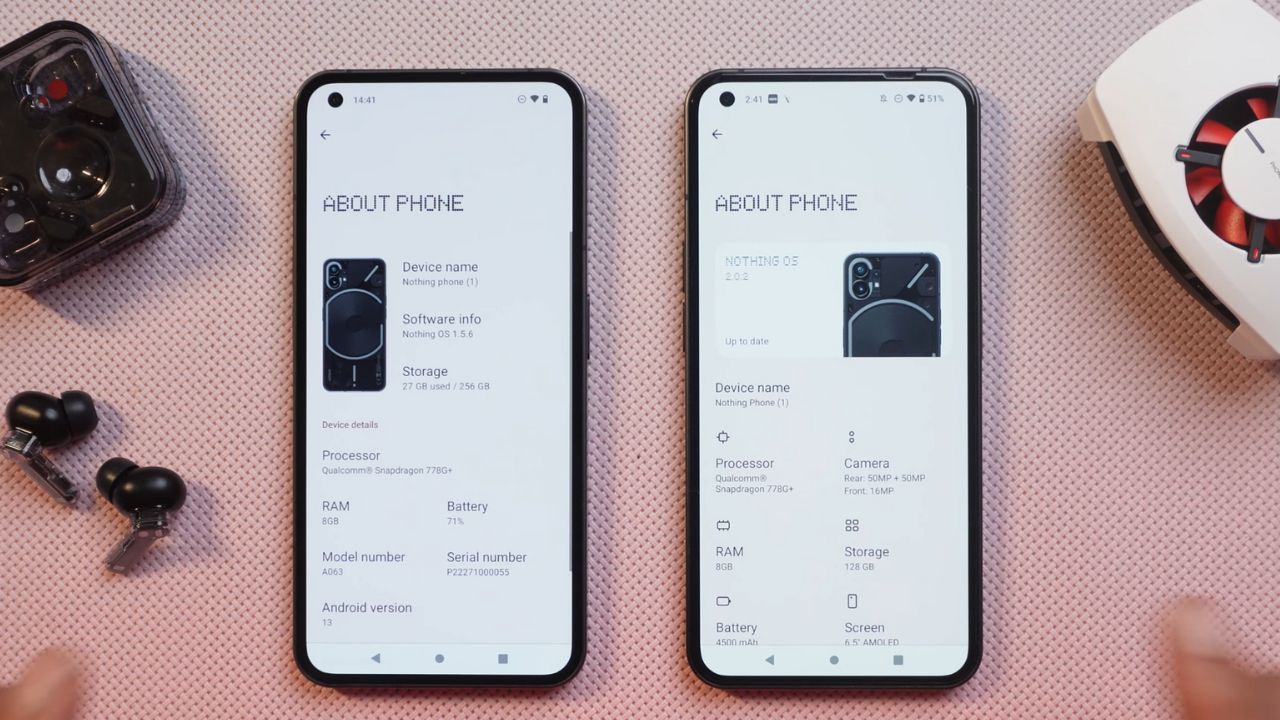 The excitement is noticeable as we compare Nothing OS 2.0 and its predecessor, Nothing OS 1.5.6, running on Nothing Phone (1). With the buzz surrounding the latest update, we will see whether the software really elevates your smartphone experience or is it just a cosmetic facelift.
Is Brighter Always Better?
First up, let's tackle the question that's been on everyone's mouth: has the brightness improved in Nothing OS 2.0? After rigorous testing with a Lux meter, we have to say the older version, 1.5.6, performed better in screen brightness. Yes, you heard it right. Sometimes, newer isn't always better.
Smooth Moves or Jittery Jumps?
The animation game appears to remain the same across both versions. But, it's not all smooth sailing for Nothing OS 2.0. We noticed occasional jitters and lags, issues we never faced with 1.5.6. The older version seems more fine-tuned, while the latest one feels like it needs a bit more polishing.
Haptic Feedback
For those who appreciate the subtle art of haptic feedback, Nothing OS 2.0 brings in stronger vibrations. However, we found the crisp and precise feedback in the older version much more to our liking. It appears that "stronger" does not always equate to "better."
Camera
When it comes to the camera, small UI tweaks are apparent in the newer OS. But the shutter speed still lags in both versions, with no sign of improvement in 2.0. After clicking a range of photos, we felt the older version provided better color, sharpness, and dynamic range. Low light performance was also more competent in 1.5.6.
Audio Output
If you were hoping for a louder audio experience, both versions will leave you wanting. Our tests showed no noticeable difference in sound quality between the two versions.
Battery Life and Benchmark
In the battery department, both OS versions clocked a similar Screen-On Time (SOT) of around 5 to 6 hours. Benchmark scores also showed a minor drop in performance in the newer version. A surprising find was in the wildlife stress test, where OS 2.0 showed slightly better stability.
To Update or Not to Update?
So, what's the bottom line? Nothing OS 2.0 brings some new features and a few UI changes, but does it significantly enhance the overall experience? Not really. Our vote leans towards the older, more stable Nothing OS 1.5.6 for now.
So folks, think twice before hitting that 'Update' button. Until then, keep geeking and stay tuned for more tech updates!
You can also give our video a watch if you want to see this comparison in the visuals.
For More Such Updates Follow Us On – Telegram, Twitter, Google News, and Facebook