OnePlus 11 Grabs OxygenOS 13.1 June 2023 Security Update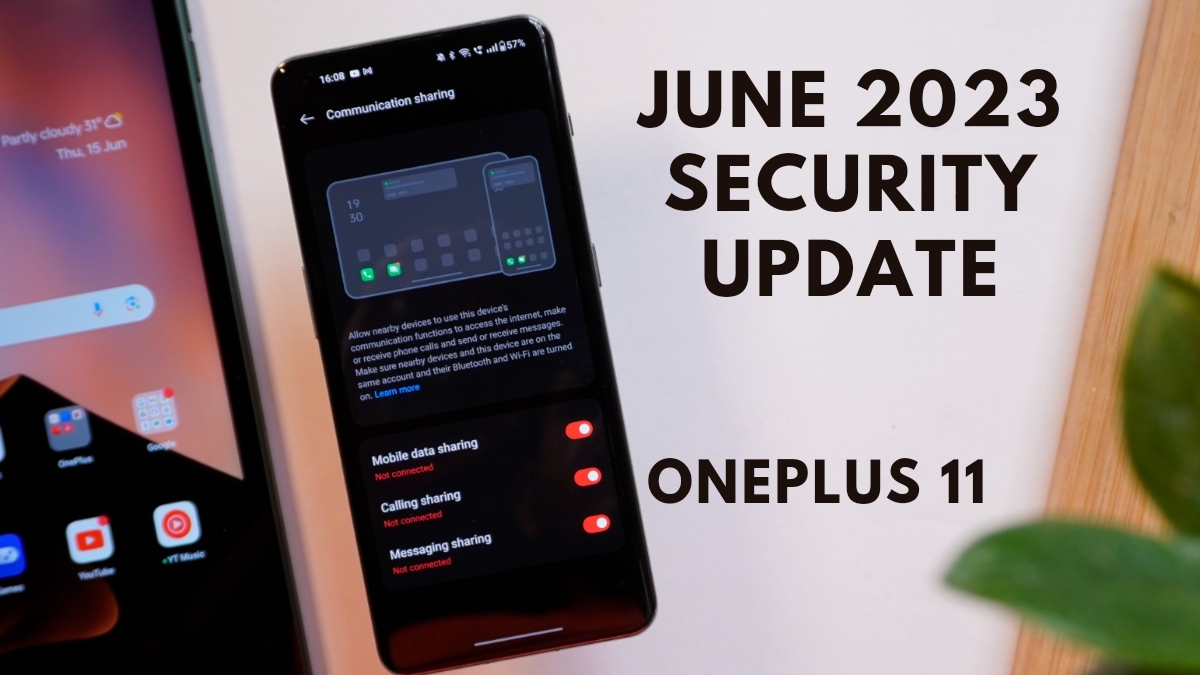 OnePlus has begun the incremental rollout of OxygenOS 13.1.0.580 for the OnePlus 11 in India. This eagerly awaited update brings several improvements to enhance system security, stability, and overall user experience. The update, which has a file size of 899 MB, is being rolled out in batches to ensure a smooth and hassle-free installation process.
System enhancements are at the core of OxygenOS 13.1.0.580. This update includes the integration of the latest June 2023 Android security patch, reinforcing the OnePlus 11's defense against potential threats and vulnerabilities. By staying up to date with security patches, OnePlus aims to provide a secure environment for its users.
In addition to security improvements, this update also focuses on enhancing system stability. OnePlus has addressed various underlying issues to deliver a smoother and more reliable user experience. Users can expect fewer crashes, improved app performance, and an overall more stable system after installing the update.
Communication plays a vital role in the OnePlus 11 experience, and OxygenOS 13.1.0.580 aims to further improve mobile network connections. By enhancing the stability of these connections, OnePlus ensures that users can enjoy uninterrupted calls, faster data speeds, and a seamless network experience.
Bluetooth and Wi-Fi connectivity have also received attention in this update. OnePlus has made significant strides in improving the stability of Bluetooth connections, allowing for more reliable pairing and uninterrupted audio streaming. Additionally, Wi-Fi connections have been optimized for better stability, ensuring consistent and uninterrupted internet access.
As with any software update, it is essential for OnePlus 11 users to keep an eye out for the OxygenOS 13.1.0.580 notification on their devices. The update will be rolled out gradually in batches, so it may take some time before it reaches all OnePlus 11 devices in India. To check for the update manually, users can navigate to Settings > System > System Updates.
OnePlus encourages users to download and install the OxygenOS 13.1.0.580 update as soon as it becomes available to take advantage of the latest security enhancements and stability improvements. Ensuring that devices are updated with the latest software not only enhances the overall user experience but also safeguards personal data and privacy.
OxygenOS 13.1.0.580 Changelog for OnePlus 11
System
Integrates the June 2023 Android security patch to enhance system security.
Improves system stability.
Communication
Improves the stability of mobile network connections.
Connections
Improves the stability of Bluetooth connections.
Improves the stability of Wi-Fi connections.
Download OxygenOS 13.1.0.580 for OnePlus 11
For More Such Updates Follow Us On – Telegram, Twitter, Google News, and Facebook