OnePlus retracts its previous statements and promises to a 'clean' OxygenOS 13 that is similar to stock Android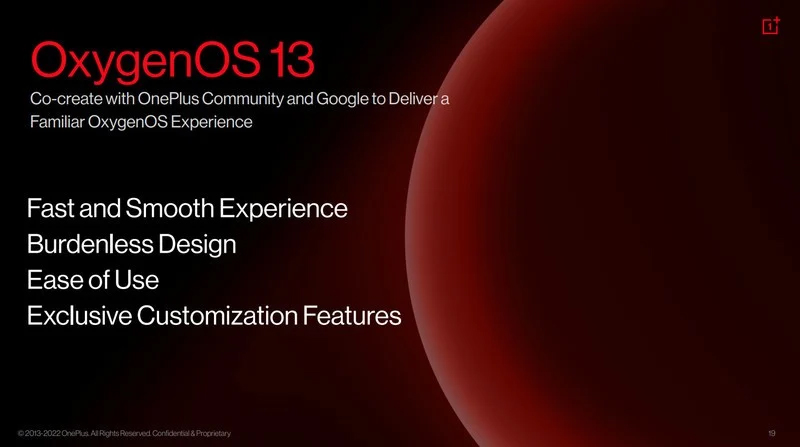 For the changes it made to OxygenOS, OnePlus received a barrage of criticism from its users. In order to give speedier upgrades, the Chinese manufacturer integrated its software codebase with OPPO's ColorOS, losing its major differentiator: clean software that is well-optimized for its hardware.
With OxygenOS 11.3 on the Nord 2, we got a first peek at this integration, but it wasn't until OxygenOS 12 that we got a better idea of what OnePlus had in store. OxygenOS 12 was essentially a rebranded version of ColorOS 12, but OnePlus was unable to fine-tune the software for its devices, resulting in numerous of issues. Despite the fact that the stable OxygenOS 12 build was released at the end of last year after months of beta testing, it had device-breaking problems that are currently being addressed.
OnePlus, in other words, went from having the finest Android skin to having the worst. Thankfully, the company discovered its error and will make repairs in 2022. OnePlus co-founder and CEO Pete Lau stated during a media roundtable that the company would reintroduce a "light and clean" version of OxygenOS that will be "known" to OnePlus fans.
OxygenOS 13 will be based on the ColorOS source, but it will include unique features and a user interface that is comparable to previous OxygenOS versions. Here's what Lau had to say about it:
Back in September, we announced the codebase for both OxygenOS and ColorOS would merge with the goal of creating one unified and upgraded operating system for both brands globally.
OnePlus' emphasis on its key markets – India, the United States, Europe, and China – remains as strong as ever. In parallel, OnePlus will aggressively explore new markets and expand our product lineup in existing ones. OnePlus will expand its product lineup in Mexico and Canada later this year – giving customers in both countries more OnePlus products to choose from at a wider range of price points. Following a successful debut in Mexico at the tail-end of 2020, we have seen demand for OnePlus products across a series of South American countries. In 2022, OnePlus will launch in South America for the first time. Moreover, OnePlus will expand its presence in Asia later this year as we continue to see more demand for OnePlus devices across the continent. Finally, OnePlus will continue to expand in North Africa and the Middle East.
While OxygenOS and ColorOS will continue to be developed on the same codebase – to allow for faster updates and better build quality – OxygenOS and ColorOS will remain independent properties. This new course was taken in accordance with feedback from our community – we understand users of OxygenOS and ColorOS want each operating system to remain separate from each other with their own distinct properties.
Our software philosophy for OxygenOS has always been to offer users a light and clean experience that is close to stock Android and oriented towards usage globally. With OxygenOS 13, we want to deliver an experience that long-time OnePlus users will be familiar with while ensuring it upholds hallmarks of OxygenOS, like a fast and smooth experience, burdenless design, and ease of use. OxygenOS 13 will retain its unique visual design and a range of exclusive customization features.
OnePlus admits to making a mistake with OxygenOS 12, which is a major issue in and of itself. I've been covering the company for more than seven years, and this is the first time it's openly confessed to making a mistake and rectifying it. With its reputation among power users shattered, the Chinese manufacturer is attempting to repair its image with OxygenOS 13.
Given the name, we should expect OxygenOS 13 to arrive later this year, along with Android 13. We don't have much information about the UI or feature list, but if I had to guess, OxygenOS 13 would resemble OxygenOS 11.3 but with a ColorOS core that contains all of Android 13's capabilities.
150W SUPERVOOC
150W SUPERVOOC is a technology developed by the OPPO Research Institute and will debut first on a OnePlus smartphone in the second quarter of 2022.
The super-fast charging is enabled by a customized twin battery, industry-leading battery PCB protection board, and a highly integrated microcontroller to improve overall charging efficiency. 150W SUPERVOOC can charge a 4,500 mAh battery from 1-50% in just five minutes.
With support for the OPPO Research Institute's self-developed Smart Battery Health Algorithm, 150W SUPERVOOC ensures a 4,500 mAh battery's capacity can be maintained as high as 80% even after as many as 1,600 charge cycles. The Smart Battery Health Algorithm can track and control the maximum charging current and ensure it stays within a safe range. 150W SUPERVOOC also boasts Bionic Electrolyte Technology that enables a supported battery cell to exhibit a self-healing functionality that further improves battery health and performance.
OnePlus has stated that it is working with Google to customise features for OxygenOS 13, implying that Material You integration might be included. The company is also rumoured to be working on a foldable device based on OxygenOS 13. We'll learn more in the coming months, but the fact that OnePlus is attempting to correct its faults with OxygenOS is good news for enthusiasts.
Source Oneplus
Also read: Get Google Android 12L on Oneplus 7 & 7T Series – How to Install
If you like our article then follow us on Google news, Instagram or join our Telegram Group. For the latest TechNews and Reviews, follow Techibee on Twitter, Facebook, and subscribe to our Youtube channel.
For More Such Updates Follow Us On – Telegram, Twitter, Google News, and Facebook