Nothing Phone (1) Users Can Now Download Glyph Composer App for Custom Ringtones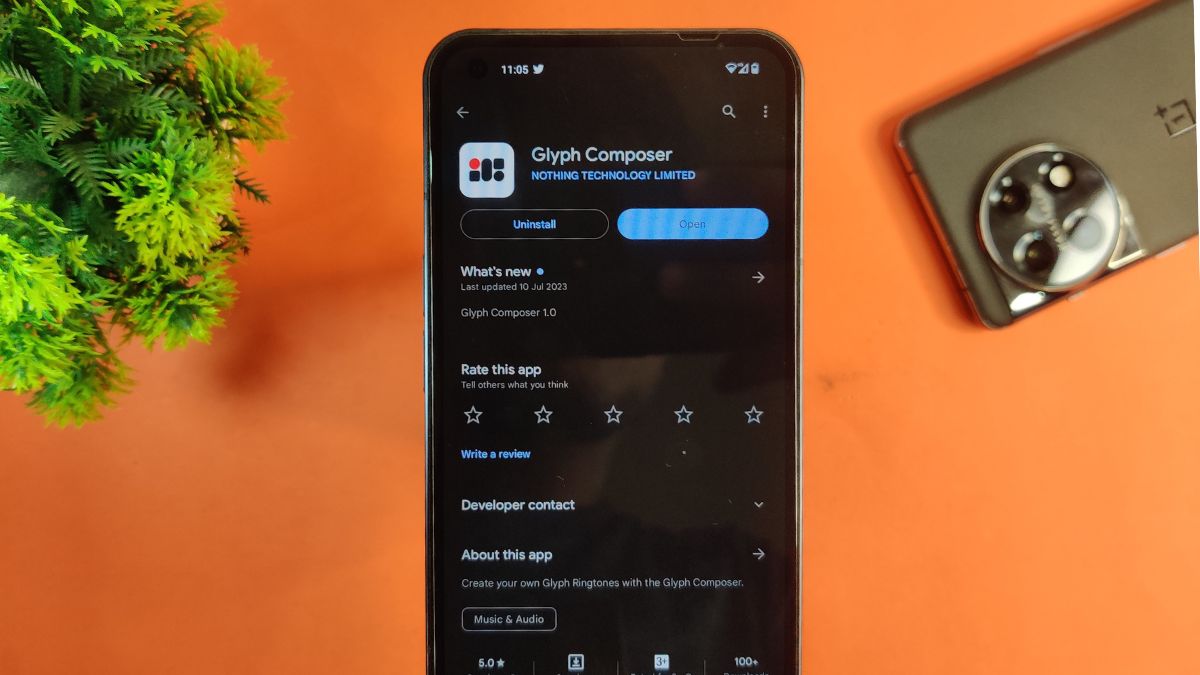 Nothing, the innovative tech company known for its unique approach to smartphone design, has launched the highly anticipated Glyph Composer app for its Nothing Phone (1). The app, which was initially introduced with the release of the Nothing Phone (2), allows users to create and personalize their own custom ringtones.
The recently released Nothing Phone (2) garnered attention for its amazing new features, including the exclusive Glyph Composer app. This app, built on the foundation of Nothing OS 2.0, a custom operating system based on Android 13, empowers users to craft their own unique ringtones that reflect their individuality.
Make Custom Ringtones on Nothing Phone (1)
Nothing Phone (1) users have eagerly awaited the arrival of Glyph Composer on their devices since Nothing company's promise to bring the feature to its first smartphone model. Currently, the device is running Nothing OS 1.5.5 still the app is working on it. Now, with the release of the Glyph Composer app, Nothing Phone (1) owners can enjoy the same level of customization and personalization previously exclusive to Nothing Phone (2) users.
Glyph Composer allows users to tap into their creative side by remixing and personalizing the custom sounds created by Swedish House Mafia. By simply tapping on the app's pads, users can trigger a combination of lights and sounds, resulting in the creation of their very own unique Glyph Ringtone. This exclusive feature allows Nothing Phone users to stand out from the crowd and express their individual style.
Download Glyph Composer App
The Glyph Composer app, which comes with a small download size of 7 MB, is available for download from the official Nothing app store. The initial version of the app, labeled as 1.0.0, provides users with the core functionality required to compose and set personalized ringtones on their Nothing Phone (1) devices. You can download the app from the links provided below.
To demonstrate the capabilities of Glyph Composer on the Nothing Phone (1), tech enthusiast TechiBoy has created an exclusive video showcasing the installation and composition process. In his video, TechiBoy takes viewers through a step-by-step tutorial on how to create their own custom ringtone using Glyph Composer.
The release of Glyph Composer for Nothing Phone (1) coincides with the launch of the Nothing Phone (2) on July 11, 2023. Nothing continues to push boundaries in the smartphone industry, offering its users unique and innovative features that enhance their overall smartphone experience.
Nothing Phone (1) users can now download the Glyph Composer app and enjoy the freedom of creating personalized ringtones that match their personality and style. With the introduction of this exclusive feature, Nothing further solidifies its commitment to delivering a truly customizable and individualistic smartphone experience.
Watch TechiBoy's video tutorial on how to use Glyph Composer on the Nothing Phone (1) here:
For More Such Updates Follow Us On – Telegram, Twitter, Google News, and Facebook