OnePlus 9RT Powers Ahead with June 2023 Security Update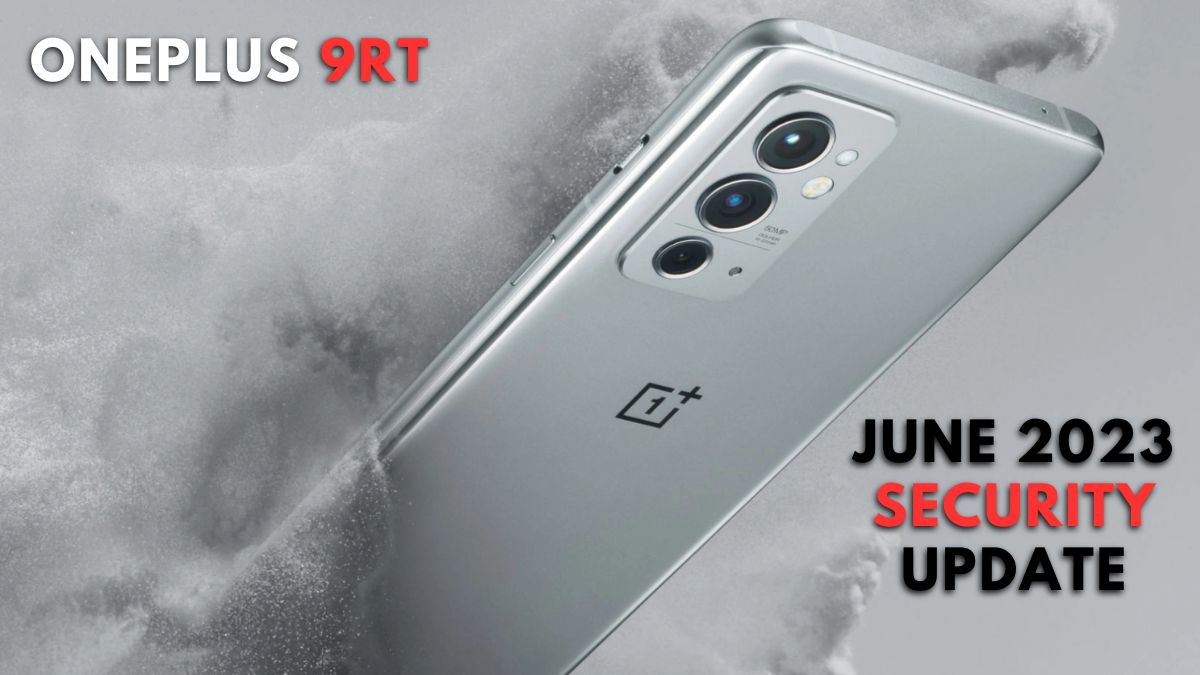 OnePlus, the renowned smartphone manufacturer, has announced the release of the OxygenOS 13.1.0.580 update for the OnePlus 9RT in the Indian region. This latest update brings new features, system improvements, and enhanced stability to the smartphone, providing users with an optimized and secure experience.
The OnePlus 9RT is equipped with OxygenOS 13.1.0.580, featuring the software version IN MT2111_13.1.0.580(EX01), while the exact update size remains unknown at present.
The OxygenOS 13.1 is based on the highly anticipated Android 13 operating system, showcasing OnePlus' commitment to providing users with the latest technology advancements. With this update, OnePlus aims to enhance the overall functionality and user experience of the OnePlus 9RT.
One of the key highlights of the OxygenOS 13.1.0.580 update is the integration of the June 2023 Android security patch, bolstering system security and ensuring that users' personal data remains protected. This inclusion reflects OnePlus' dedication to prioritizing user safety and maintaining a robust defense against potential security threats.
Furthermore, the update introduces various system improvements, resulting in enhanced stability for the OnePlus 9RT. Users can expect a smoother and more reliable performance across their day-to-day tasks and applications. OnePlus continues to refine its software to provide a seamless and efficient user experience.
In terms of communication, the OxygenOS 13.1.0.580 update also addresses the stability of mobile network connections. This improvement aims to provide a more consistent and reliable network experience for OnePlus 9RT users, ensuring uninterrupted connectivity and smoother data transfers.
As with previous updates, the OxygenOS 13.1.0.580 rollout will be incremental. Initially, a small percentage of OnePlus 9RT users in the Indian region will receive the OTA (Over-The-Air) update. The company will gradually expand the rollout over the next few days to reach a wider audience.
Users are encouraged to keep an eye out for the OxygenOS 13.1.0.580 update notification on their OnePlus 9RT devices and take advantage of the new features and improvements it brings. With this latest update, OnePlus reaffirms its commitment to delivering high-quality software and an exceptional user experience to its loyal customer base.
How to update OnePlus 9RT to OxygenOS 13.1.0.580 Update
To update your OnePlus 9RT to the latest OxygenOS 13.1.0.580 version, follow these steps:
Connect to a stable Wi-Fi network.
Go to "Settings" and select "System".
Choose "System updates".
If the update is available, tap "Download and install".
Wait for the download to complete.
Tap "Install" or "Install now".
Keep your device connected to a power source.
Wait for the installation to finish and your device to restart.
Remember to back up your important data before updating.
Download OxygenOS 13.1.0.580 for OnePlus 9RT
IN MT2111_13.1.0.580(EX01) – Incremental Update
The download link will be added once available.
For More Such Updates Follow Us On – Telegram, Twitter, Google News, and Facebook