Android 14 Beta 5 Released: Final Tweaks and Adjustments Before the Upcoming Stable Release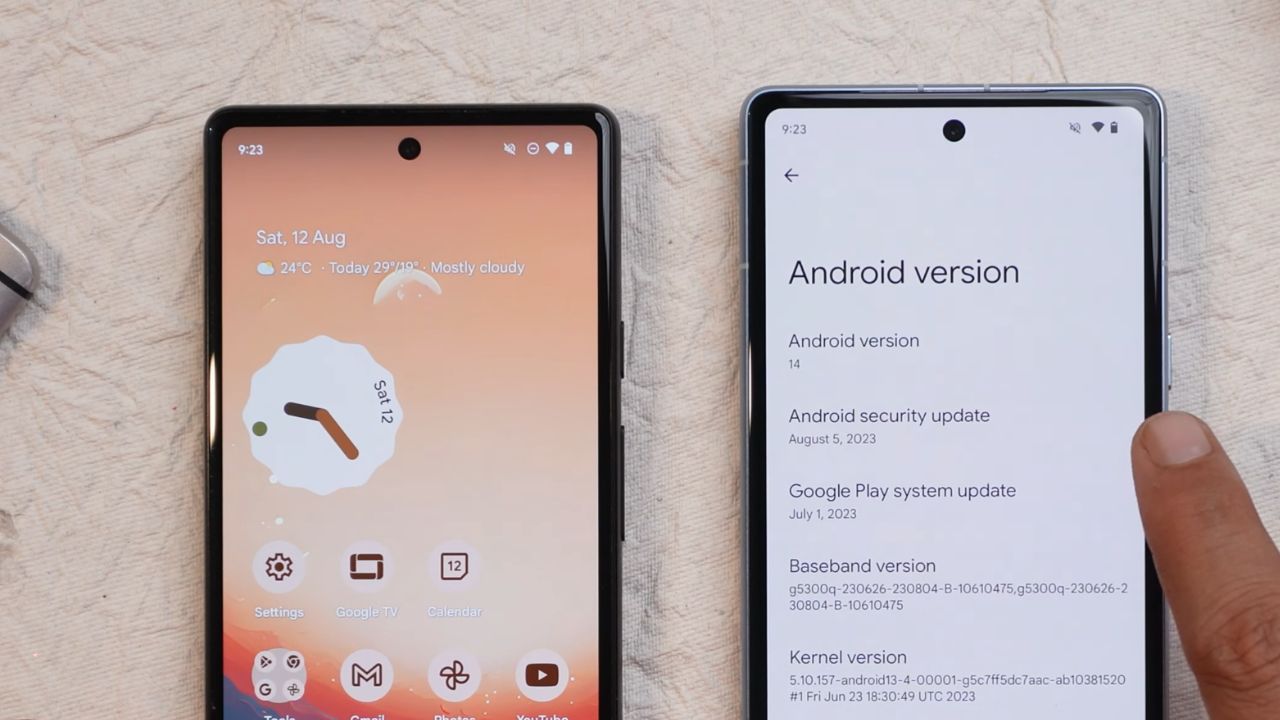 Google has released the last beta version of Android 14 Beta 5, as they inch closer to the launch of the stable build. This beta version will not only fix lingering issues but also introduce some new features to improve the user experience. Now we'll look at what's new in Android 14 Beta 5.
Comparison with previous Android 14 Beta 4
Comparative insights were provided through two devices: the Pixel 6A running Android 14 Beta 4 and the Pixel 7A running the latest Beta 5. The new version comes with the security patch dated August 5th, 2023.
Quick Setting Tiles
One immediate change noticed was in the quick setting tiles, specifically in the date and day format. In the new build, the month now precedes the date, unlike the previous build. Also, the time remaining display from Beta 4 has been removed, and there's a tweak in how the text adapts to the wallpaper color.
Changes in Wallpapers and Styles Section
An interesting visual modification was seen in the "Wallpapers and Styles" section, where the word "and" was replaced with the "&" symbol. This change reflects across the entire UI. Additionally, the spelling of "color" has been changed, and the number of clock styles has been reduced from nine to eight, with one particular style being removed.
Volume Slider and Settings Page
The volume slider panel has been noticeably enlarged in Beta 5, creating a distinct difference between the previous and current builds. The settings page also witnessed some alterations, including:
Battery Section: The battery widget option has been removed, though it can still be accessed from the widget section.
Display Section: A change in wording from "storage" to "flashlight," along with a change from "torch" to "flashlight."
Theme Section: Removal of the "turn on at bedtime" option from scheduling.
Screen Saver: Addition of the "show home control" option.
Color Section: Uncertainty regarding the presence of the "boosted colors" option on Pixel 7A in Beta 4, but it was noted to be absent in Beta 5.
Android 14 Beta 5 may not be a ground-breaking update, but it brings forth important refinements and sets the stage for the upcoming stable release. With Google's consistent efforts in fine-tuning the Android experience, users can expect a polished and efficient version when Android 14 officially rolls out.
We have made a dedicated video on this topic, which you can watch.
For More Such Updates Follow Us On – Telegram, Twitter, Google News, and Facebook